ABOUT
Thought for today: Philippians 4:8 ..Whatever is true, whatever is noble, whatever is pure, whatever is lovely, whatever is admirable - if anything is excellent or praiseworthy, think about such things..
Disclaimer: There is no assurance that any resource or activity I've found or described will be as 'accessible' as you might need. Information or links may be out of date. Use the information at your own risk and be sure to check with your health care professional for exercise advice.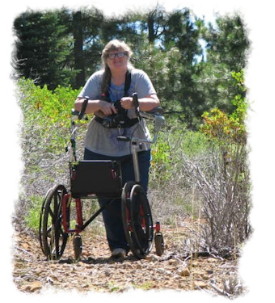 Once upon a time I could leap tall buildings with a single bound - or at least I could climb over a few rocks and tree roots and hike through the woods.
Nowadays, I use an all-terrain rolling walker when outdoors - a Walk'n'chair. I may eventually have to go to some other type of more advanced mobility device. I am not complaining, but changes in my health now limit where I can go in the great outdoors. And to go outdoors a mobility challenged person really does need a device with large wheels. For rolling walkers that means the Walk'n'chair, or a Trionic Veloped or Trionic Walker. Alas, that's the sum and total of available rolling walking gear with big enough wheels to be all-terrain in 2018.
In order motivate myself to get outdoors more often, I've become an AMATEUR PHOTOGRAPHER. Public lands both federal and state define 'professional and/or commercial' photography with professional activities generating certain restrictions. Amateurs aka non-professionals, aka tourists, can pretty much take photos wherever the public is allowed. But if you have a large expensive-looking camera and occasionally use a tripod, instead of whipping out an even more expensive cell phone (that also takes fine photos and video) you could get asked if you are a pro.
So right here I state I take photos for fun, not money. I have good but average camera gear and I think my photos are getting better all the time. But I am NOT professional and I don't do 'commercial' photography. I AM AN AMATEUR. I don't sell photos, don't take photos for others, and don't make money from photos. (And I don't have a very smart phone, either.)
This web site is pretty much a personal list of wheelchair and mobility device 'accessible recreation' possibilities for northern California. I gathered all this data together because I needed more scenic destinations to photograph where I could get beyond the parking lot. Information on wheelchair/rollator recreation opportunities has been surprisingly difficult to locate. I've had to write letters, wait for replies, do an endless amount of online research. My effort is sort of a 'cliff notes' version of a travel site.
Please remember that wheelchair accessibility descriptions provided in offsite links are pretty subjective, not absolute certainties. You may arrive at a location and find an insurmountable, unmentioned obstacle. It happens and it's not my fault. Too often I find that the path described as level actually goes uphill or down, there is an unmentioned obstacle impairing trail width or a few dozen steps the resource agency forgot to mention.
There really is a lot of confusion online as to what constitutes accessible or barrier-free recreation. Example: If a campground description says it is 'accessible, do they mean all the campsites are wheelchair accessible or just one? Does it also mean the path from any campsite to the restroom is wheelchair-suitable? Or do they just mean they have wheelchair accessible restrooms and not much else? All very good questions that I can't usually answer.
So, grab your camera, rollator or wheelchair and head out the door. I'd love to hear about the places you find - and how they compared to the online information. Here's my own scenic ADVENTURES.
P.S. And before I forget, if you plan on wheelchair hiking using something other than a traditional wheelchair, be sure and print out some copies of the most recent ADA rules on the use of personal mobility devices on trails, parks, etc. Sometimes, well-meaning nitwits try to intimidate the mobility challenged saying 'you can't use that device here' when in fact you are the only one who legally can. Exercise your rights, but be nice and make friends.
Current ADA rules for use of: Personal Mobility Devices
California Parks: Use of Other Power Driven Mobility Devices in California State Parks