Lake Almanor Recreation Trail
Thought for today: Philippians 4:8 ..Whatever is true, whatever is noble, whatever is pure, whatever is lovely, whatever is admirable - if anything is excellent or praiseworthy, think about such things..
Disclaimer: There is no assurance that any resource or activity I've found or described will be as 'accessible' as you might need. Information or links may be out of date. Use the information at your own risk and be sure to check with your health care professional for exercise advice.
Way back in the late 1970's we lived on the east shore of Lake Almanor in Plumas County at a mobile home park called Miller's Resort run by Frank and Nioma Miller. We'd often enjoy the beauty of sunsets highlighting Lassen Peak, which is in Lassen Volcanic National Park. Frank tried to get us to enjoy swimming and fishing in the lake. My forester husband Bill, however, swims like a rock and I sunburn like crazy and neither of us fish. But the beauty of Lake Almanor, (and the memories of kind people) are forever enchanting!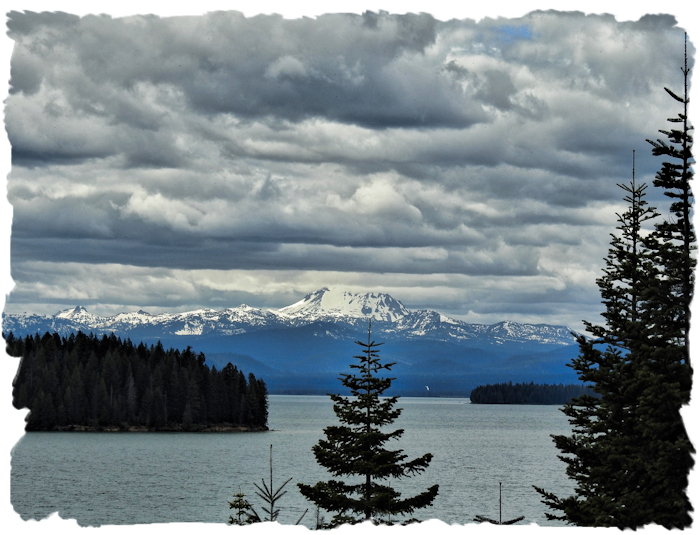 Lake Almanor is in Plumas County, but the lake area is part of Lassen National Forest. When searching for information about the trail make sure you look in the correct USFS web pages. Lake Almanor was formed in 1927 by damming the Feather River and flooding the longstanding Yamani Maidu village site.
The dam is currently owned by PG and E and used for hydroelectric power generation. It is a gorgeous lake with great views of Lassen Peak, Dyer Mountain, and hosting a variety of wildlife. The 28,000-acre lake provides ample boating, swimming, water skiing and sailing opportunities. Plus, there is the 9.5 miles of paved barrier-free Lake Almanor Recreation Trail on the west shore line.
In mid-May 2018, we tootled down the nearly deserted Highway 89 in search of the Lake Almanor Recreation Trail to test it out for wheelchair and slow walker use. Since we were actually going to a different destination for a forestry event, this was a 'quick tour' of the trail, just to get some idea how suitable it might be for users of wheelchairs and rolling walkers.
The Lake Almanor Recreation Trail is described as a 9.5 mile paved trail (total distance one way) along the western shore of Lake Almanor. I've also seen it described as an 11 mile trail or a 19.5 mile trail round trip. I have no idea why the trail length distances are so variable.
For some quaint reason, no one seems to have posted a printable map of the Lake Almanor Recreation Trail showing the exact access points and handicap parking locations. Here's a photo of the posted map at the Dyer View Day Use Area, which was the spot where we could actually find the trail itself and a place to park. Surprisingly, there is no information about the Dyer View Day Use Area on the Lassen National Forest web site.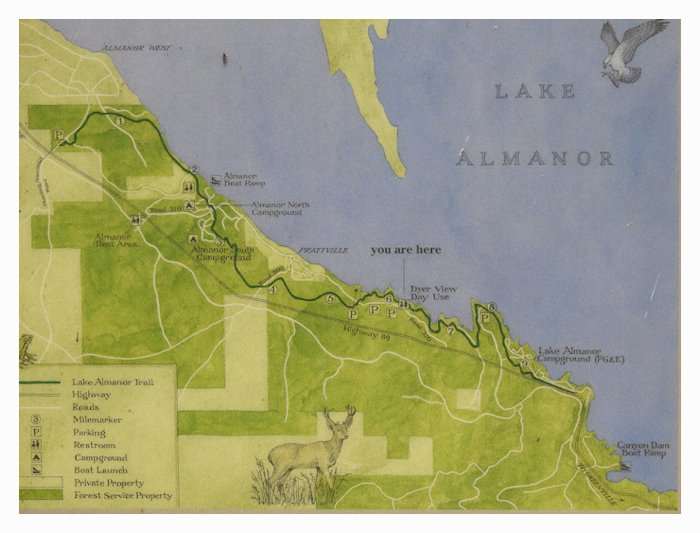 Fundamentally, it's a long, 8 foot wide paved trail with a number of access points. You'll have to decide how much of the trail you actually want to tackle as the access points are sometimes miles apart. Day use hours are 6AM to 10PM. The trail is closed to motorized vehicles (like cars, ATV, motorcycles). It is a very popular biking trail.
Video: https://www.youtube.com/watch?v=hfPt9r2gr68 The video illustrates the beauty of the trail, but also the amount of conifer needles on the paved surface. The cyclists make it look fast and fun, but as a walker, I certainly won't be able to go as far as they did.
As a USFS 'barrier-free' trail, it is paved, open to wheelchair users, walkers, hikers, bicycles but NOT motorized vehicles. That being said do not be surprised to have a stream of ATV enthusiasts flow down the trail even though they are NOT SUPPOSED TO BE THERE! Just a word to the wise to be aware of the unexpected. Listen up when walking!
Since we had not visited the trail itself before this trip, I found locating the physical pathway to be somewhat tricky. From Chester, go south on Highway 89 towards Canyon Dam. To reach the northern trailhead, turn northeast on the unpaved road opposite Humbug Rd turnoff on Highway 89. The trailhead there is less than a quarter mile down before the archery range.
You have to study your map carefully. Before you find Humbug Rd you'll drive past Lake Almanor West Drive which goes into an upscale subdivision. Don't mistake this for Almanor Drive West which goes to various campgrounds and resort facilities along the lake shoreline. The southern trailhead is at the Canyon Dam Boat Launch, off Highway 89.
In between the two trailheads are a number of trail access points along Almanor Drive West roadway including Almanor West Campground, Dyer's Day Use Area, and areas within Plumas Pines Resort. Farther south on 89 are Rocky Point Campground and Canyon Dam Boat Launch access points.
The access points do seem to be several MILES apart. If you are using a manual wheelchair or mobility walker, you will need to consider just how much of the trail you can accomplish in one outing. It may not be feasible or practical for a wheelchair or rollator user to go from access point to access point due to distance. I chose the 'out and back' method of walking a nice distance then turning around and walking back the way I came. Ypu could also walk for a specific amount of time, then turn back.
I know I should limit myself to a walk that is less than 1 mile total in one day, and that means I'd have to be very selective about trail sections to conquer since the exit points appear to be so far apart. If you use an electric wheelchair the distance between access points would be less important because you could do most if not all of the trail on one full charge.
The lovely trail winds through a mixed conifer forest with some spectacular views of Lake Almanor, Dyer Mountain, and Lassen Peak. Wildlife that you might see include bald eagles, osprey, and goshawk. For this test hike, I therefore looked for a location along the shoreline for potential lake views.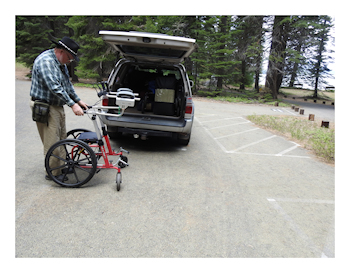 We opted to try out the Lake Almanor Recreation Trail at Dyer View Day Use Area. There are a couple of handicap parking spots marked out. The parking spots lean downhill, so take care unloading yourself and your mobility device. The bathroom area appeared to be handicap friendly, but again there was a uphill slope to deal with. We were there in mid-May and the restroom was unserviced. As the location is not in the USFS database I don't know if this restroom situation will improve later in the year. Leave it to me to find the one trail 'access point' that isn't in the USFS list and had an unserviced restroom.
Note: Anyone with a DMV handicap placard who uses a mobility device other than a standard wheelchair to get around should carry with them a copy of their handicap DMV info and a copy of the Personal Mobility Devices info, as you, as a 'disabled' person, likely have the right to use your chosen mobility device (even if electrically powered) on all pedestrian footpaths (excluding your car, a motorcycle or an ATV).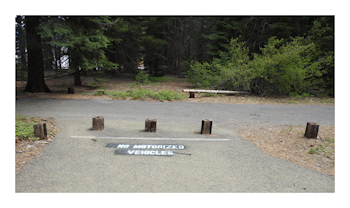 The trail however is 'right there' off the Dyer View parking lot and right adjacent to Lake Almanor. The trail entrance point is clearly marked 'no motorized vehicles' meaning no ATVs. This rule is not referring to an electric wheelchair or a person with a disability using a small mobility scooter.
Despite the various obstacles presented by the parking lot (slope, for example), the trail entrance was wide enough between posts to get my Walk'n'Chair through and onto the actual trail. The lake views are quite nice here at Dyer View. As it was a somewhat breezy day, the water along the shore was churned up and brownish, but the deeper water was blue.
The paved trail itself was in good condition. It's about 8 feet wide, of sufficient width for people to easily pass each other on the trail even if both are in wheelchairs or bicycles - treat it like a road and stay on 'your' side. There was some conifer tree needle debris on the trail surface. Depending on your device (wheelchair or walker) the amount of debris might cause some loss of wheel traction. For the most part it was all manageable for me with no loss of traction.
I walked some distance in each direction from our entry point. There was a wooden bench off-trail which did not have paved access, but it should be manageable for most people. The only picnic table I spotted was actually in the lake water (water level was high in May). Other locations like the various campgrounds may have better picnicking options.
The trail is NOT actually level, so plan accordingly. There are modest inclines, curves, descents just as you would find in any woodland pathway. It does feel like walking through the woods, and it is no wonder it is a popular trail. I would expect trail usage to be highest near a campground, and the south and north trailheads. Weekends will be busier than weekdays, and summer season will be more crowded than spring or fall when schools are in session.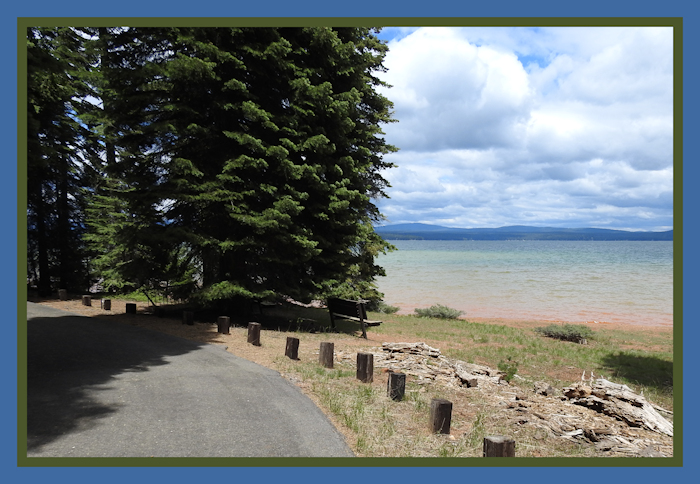 I didn't go that far along the trail as we were traveling to another destination that same day. But from what I walked with 'Big Red' (my Walk'n'Chair), it's a great trail for most people who use wheelchair and rolling walkers. An electric wheelchair or rolling walker with larger wheels designed for all terrain use, will find it very easy going.
A person who uses a manual wheelchair may need some 'push' assistance on the inclines if there are a lot of tree needles on the path surface. Bigger or wider caster wheels, or a freewheel attachment for a wheelchair could make a huge difference in trail enjoyment, or alternatively, an all-terrain manual wheelchair like the Grit. The trail is very do-able in a standard manual wheelchair, but it would be slower and take more physical effort. If using a standard manual wheelchair or any rolling walker, I suggest picking out your entrance location carefully and plan for a shorter hike until you know how your device will handle the surface debris.
Additionally, if you drive along the east shore of Lake Almanor to go to Greenville or Quincy, there are some fine viewpoints along the lake with some great photo opportunities just before the Canyon Dam intersection. From the vista point you can see the current bridge work as well as a great view of the lake and Lassen Peak in Lassen Volcanic National Park (see Shasta County reviews).
ACCOMODATIONS: In 2018, you may need to plan ahead for handicap accessible accommodations if staying overnight in the area. With the bridge reconstruction at Canyon Dam, my favorite Best Western hotel in Chester was booked up indefinitely so we altered our trip plans. After the bridge construction is complete in late summer, there should be more choices for hotel accommodations.
Rather surprisingly, considering the identification of the Lake Almanor Recreation Trail as being 'barrier-free' and open to wheelchair users and with the trail going through a number of USFS campgrounds, there are no USFS 'handicap accessible' campsites identified for the Lake Almanor area on the Lassen Accessibility List or at Recreation.gov, the reservation site used by the USFS.
The apparent lack of USFS campground sites for wheelchair access at Lake Almanor will complicate things for someone who wishes to walk or roll the whole trail who needs to do it in segments. There may be some nice private campgrounds that are handicap accessible in the adjacent areas like Plumas Pines, or Canyon Dam (keeping in mind road closures). You will have to do some research and phoning. If you find something suitable, don't wait to the last minute to make reservations.
DINING: Finding 'accessible' places to eat can be equally challenging in the off-season or early in the week. I suggest carrying lunch with you (and maybe, dinner, too). We often carry a 'canned food' lunch so that we have the option of using a roadside rest area, a day use area, or a restaurant. More restaurants are open on weekends than weekdays. We've found it really can save the day to have packed food for the trip. This trip we ate our packed lunch at the very nice CalTrans roadside rest just east of Chester on Highway 36, which has a nice view of the lake.
I do encourage everyone to add the Lake Almanor Recreation Trail to your bucket list, even if you only do a portion of the trail as a day trip. It's a truly lovely area and a very nice 'accessible' trail.
TIMING: My suggestion for adventurers would be to visit the Lake Almanor Recreation Trail in the fall after the bridgework is completed, preferably when the fall colors occur in Plumas County. For the spring, go hike the wheelchair accessible trail to Frazier Falls in eastern Plumas County near Graeagle as the falls are at their peak in the spring.
Have a great time in Plumas County! Even if you don't hike and come for the scenic drives or fall color, you won't be disappointed!
There are lots (and lots, and lots) of places yet to be reviewed and I am unlikely to get to them all. So that others may find some new places, I've compiled a draft list of locations that may be wheelchair accessible. These are POSSIBILITIES, no certainties. Some places may be complete duds. ATTENTION: this is a ROUGH draft list - mostly for my own use, so if you use this draft list, lower your expectations and do your homework! DRAFT PLUMAS COUNTY ACCESSIBLE RECREATION LIST