Adventure at Baum Lake
Thought for today: Philippians 4:8 ..Whatever is true, whatever is noble, whatever is pure, whatever is lovely, whatever is admirable - if anything is excellent or praiseworthy, think about such things..
Disclaimer: There is no assurance that any resource or activity I've found or described will be as 'accessible' as you might need. Information or links may be out of date. Use the information at your own risk and be sure to check with your health care professional for exercise advice.
Directions: If coming from Redding, drive 299E past Burney beyond the 4-corners intersection to Cassel Rd/299E. Then drive south a few miles on Cassel Rd to find the sign for Baum Lake Rd and Crystal Lake Fish Hatchery. The hatchery is adjacent to Baum Lake. There is also Crystal Lake, which feeds into Baum Lake, but it is a walk-in only area to get there and much less accessible for me with my 'Big Red' walk'n'chair.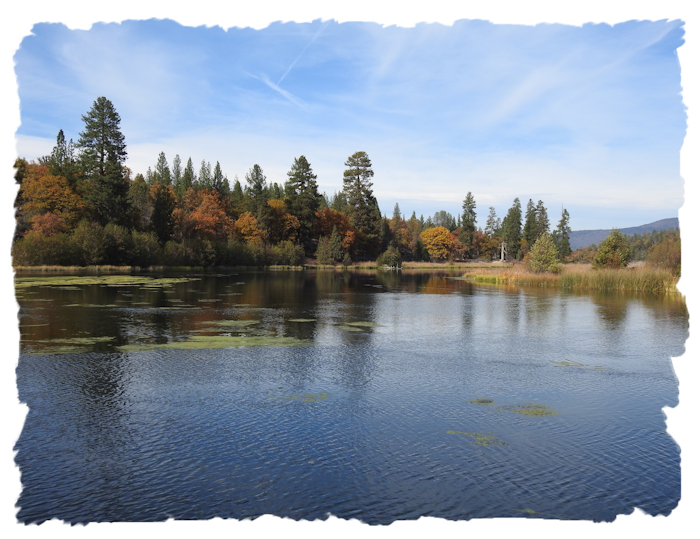 In October 2016 we decided to take a day trip to Baum Lake which is in eastern Shasta County. It was our first visit. Baum Lake has turned into one of my favorite spots for photographing waterfowl. I may eventually even capture a decent photo of a bird in flight or coming in to land on the water with enough practice!
Baum Lake is actually a reservoir and part of a one of the earliest PG and E hydropower systems in California. There is quite a lot of history surrounding the hydro project and the area. Plus it's a very popular fishing spot for locals.
While Baum Lake is pretty any time of the year, the scenery in October is lovely, as is the light. Trees are reaching their peak of autumn colors in mid-October. The oak tree foliage turns a dark gold. The maples are bright yellow. Fall colors are in glorious abundance.
For photography, late afternoon is optimal as visitors can take advantage of the photo points from the wheelchiar accessible fishing platform and the parking area along the lake edge and have the sunlight behind you. The reflections of the lake edge foliage allows for wonderful composition possibilities. There always a few birds, but there are more during the annual bird migrations in Late Fall and late Winter. When we returned in February and March there were at least 10 different waterfowl species enjoying the abundant food supply.
Each time we visit, there are a few hikers, and some shoreline fishermen and a few boaters. Boats are limited to small craft without motors, like canoes, kayaks. Any sort of silent watercraft works well in this lake.
It's not unusual to see someone on the water taking photos from a boat, as you can get great closeups of birds feeding on the abundant algae and fish. I've noticed there are persons who use wheelchairs who are boating with friends or practicing photography here, too. It's not usually crowded around the lake, but you should expect there to be a few people around. Best times for photography with the least visitor activity would be weekdays.
Baum Lake parking area is paved. The paving is somewhat rough. A wheelchair would have no trouble or someone using an all-terrain rollator - any device with large wheels. Be very careful when using a rolling device with 8 inch wheels or smaller as there are cracks in the pavement that can catch a wheel for the unwary and tumble you over.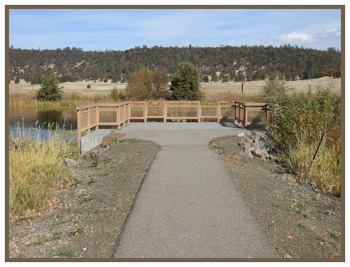 There is a very nice wheelchair accessible fishing platform (perfect for photography), three new concrete picnic tables (as of 2018) and a partially wheelchair accessible bathroom. By partially accessible, I mean that most manual wheelchair users would be able to negotiate the typical vault style bathroom, but the door way configuration could be difficult for a large motorized wheelchair. Alternatively, there is a fully accessible bathroom at the PG and E Campground a few miles south. The road to the PG and E campground is directly across from the entrance road to Baum Lake.
The parking area is aligned with the shoreline so that on low visitor days I've parked where I could use the car as a photo blind for waterfowl photography. The fishing platform is really excellent for photography. Most fishermen seem to prefer the shoreline and not the platform, thank goodness. In the late afternoon a surprising number of fish leap high out of the water feeding on invisible-to-me insects. Alas, all the fish I catch with the camera is the splash! Still, it's very fun to see.
Crystal Lake Hatchery which is adjacent to Baum Lake is open to visitors 7am to 4pm daily. There are self-guided tours, but I haven't actually visited the hatchery to see how wheelchair-friendly it might be. It's on my to-do list.
The Pacific Crest Trail cuts around portions of Baum Lake. This section of trail is not barrier-free but may be do-able for some people, depending on your device. The trail head from the parking area is fenced in such a manner that a person has to slip between pipe posts to gain access to the actual path around the lake. It's a barrier for most disabled folks unless your mobility device can be folded and you are able to stand and slip through the opening posts.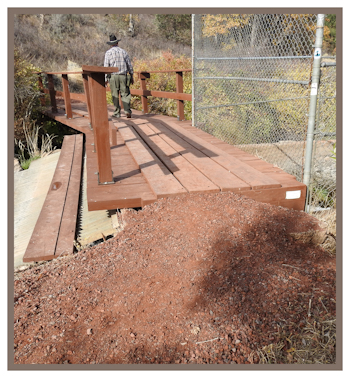 In my case, I wanted to see what the view from the pedestrian bridge was like for photographs so I folded up 'Big Red' (my Walk'n'Chair) and went through the entry way. I then rolled down the trail over to the little bridge you can see from the parking area. The trail surface is mostly packed and loose cinder and not quite surfaced wide enough for a wheelchair. So I was able to get to the bridge, but with some difficulty.
At the pedestrian bridge over the spillway, the access to the bridge itself is very 'iffy' for wheelchairs. It is not level and part of the trail sides have washed away so the lift onto the bridge is dicey. Plus, the wooden bridge has slats run the wrong way and a wheel can get caught going across. Since the trail worsens across the bridge, that's as far as I went. Still, the view is nice from the bridge and offers modest photo opportunities. There is a section of trail that goes along the edge of Crystal Lake on the other side of the bridge. We did not explore that area, yet. From the maps it appears to get swampy on the northern side of Crystal Lake.
My preferred photo location is definitely the fishing platform. In the late afternoon (golden hours) the shoreline makes some beautiful reflection photos in the water. The edge vegetation is particularly pretty in the dried 'fall' mode. The waterfowl love feeding in the shallows across from the platform, which makes for excellent lighting and some pretty good opportunities to zoom in for shots of shy birds. I am quite happy with the photos taken in every season.
Birds and Wildlife at Baum Lake: So far I have photographed 13 different bird species plus a muskrat couple and some deer. I've seen even more species, but didn't manage to get them photographed. Enjoy the photos.
During our first visit in 2016, we went on up into the PG and E campground at Cassel. The campground is quite large, reasonably level with good paved camping sites and ADA 'accessible' bathrooms. There is a well-known canal or large water ditch that goes through the campgrounds which apparently provides some pretty good fishing (as does Baum Lake). The small community of Cassel next to the campground is quite pretty and has basic services for campers. Consider this as a possible wheelchair-friendly campground.
There are lots (and lots, and lots) of places yet to be reviewed for accessibility, and I am unlikely to get to them all. So that others may find some new places, I've compiled a draft list of locations that may be wheelchair accessible. These are POSSIBILITIES, no certainties. Some places may be complete duds. ATTENTION: this is a ROUGH draft list - mostly for my own use, so if you use this draft list, lower your expectations and do your homework! DRAFT SHASTA COUNTY ACCESSIBLE RECREATION LIST