Big Bend Kayak Watching
Thought for today: Philippians 4:8 ..Whatever is true, whatever is noble, whatever is pure, whatever is lovely, whatever is admirable - if anything is excellent or praiseworthy, think about such things..
Disclaimer: There is no assurance that any resource or activity I've found or described will be as 'accessible' as you might need. Information or links may be out of date. Use the information at your own risk and be sure to check with your health care professional for exercise advice.
Directions: To reach Big Bend, you leave Redding and go east on State Highway 299E. Once you go through tiny Montgomery Creek and up the Montgomery Grade you turn north on Big Bend Rd. Most of the surrounding forest, is part of the Fountain Fire recovery area. This whole area is spectacularly beautiful. Don't try to hurry. Just take your time and enjoy the views, and take advantage of any photo opportunities.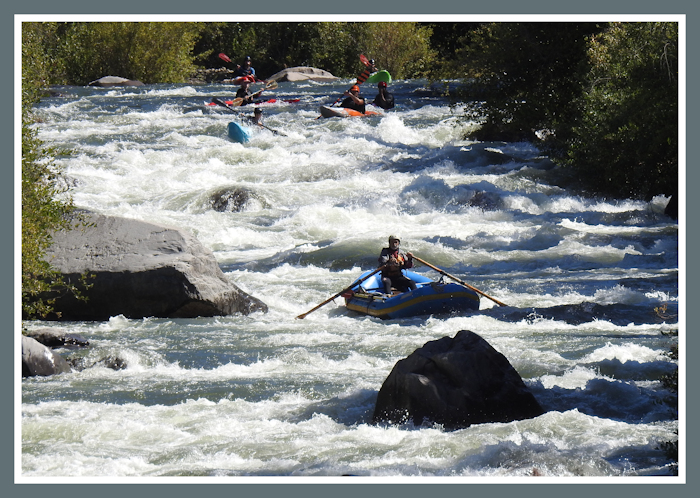 Before anyone gets too excited, I didn't go kayaking. I went to Big Bend (California) to take photos of OTHER people kayaking! In September 2016, PG and E did two water releases on the Pit River that raised the river levels enough to provide good whitewater kayaking and rafting opportunities on specific stretches of the river below the Pit No.3 power facilities.
It's a very pretty drive to Big Bend, so this expedition was more of a driving and photography trip than a hike. There are places to get out of the vehicle, including Big Bend. Big Bend is a tiny community in eastern Shasta County. Big Bend is on the Pit River and the bridge there is ideal for photographing anything coming downriver (like kayaks). The community is adjacent to Shasta Trinity National Forest and a portion of the area is part of the Pit River tribal land.
In summer of 2016 I had a new camera (Nikon p900) that has a terrific 83x zoom lens. I wanted to see if the extreme zoom would make it possible to capture kayakers as they came down the Pit River. Wow! I was so excited that the camera was able to bring the action right up close for both stills and video. It really made my day!
Since I hadn't been in Big Bend when kayakers were here, I took a number of trial photos to try and guess where the whitewater action would be upstream. The real whitewater action occurs where the river first comes into view - which is why a long zoom is pretty darn handy!
Here's a view of the Pit River from the Big Bend bridge. See those tiny boulders waaaaaaay up the river? That's where the kayak whitewater action REALLY takes place. So you need either a good set of binoculars or a camera with a long zoom to catch the action.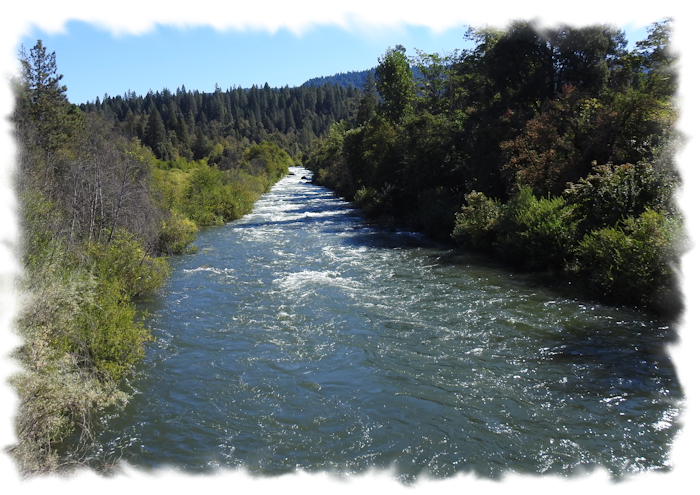 Once at Big Bend (which is a tiny community) you'll need to scout out where to park so that you can get to the bridge safely using your mobility device. While the bridge is paved, the off-road parking areas nearby are unpaved and rugged. Also, River Watchers may be doing water measurements from the bridge during a kayak water release, so you may need to make sure you aren't interfering with their duties when picking your spot if you plan to take photos from the bridge.
Most kayakers run the rapids, go under the Big Bend bridge, and use a takeout point on the northwest side of the bridge. They then load their kayaks up onto vehicles and race back to the upriver put-in location for more exciting runs. Generally, the kayak action will be between 10AM and 4PM when there is a competitive group, most often on a weekend.
For kayak-watching opportunities, you'll need to check at American Whitewater for water levels. I happened to find out about the September kayak runs from a local article at Pit River Country.
We were on the Big Bend bridge for several hours taking photos, and we could have stayed longer. One can only sit out in the sun on a bridge for so long. Keep in mind that if there is a lot of road traffic that staying on the bridge for a long period may not be feasible. (Usually, there isn't much traffic, though.) We decided to go picnicking somewhere up the scenic Pit River and drive over the USFS back roads over to Highway 89.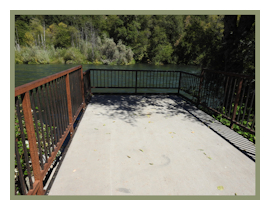 We backtracked south on Big Bend Rd to Hagen Flat Rd then east on Hagen Flat Rd. We picnicked at PG and E's Madesi River Access where the kayakers put their craft into the river. There's a nice handicap accessible fishing platform, picnic table, an ADA parking area and restroom though the Madesi entry road is dirt and somewhat rough. (The camping area itself does not seem handicap-friendly so think 'day use'.) On a kayaker day there may also be opportunities to photograph people putting their crafts in the river, too. Don't plan to fish on a kayaker day at Madesi. There's too much activity - but you could fish farther upriver at another of PG and E's fishing platforms.
Once past Madesi River Access a good USFS map is helpful. The road over to Lake Britton and Highway 89 is called Baker Road on some maps and becomes is USFS 37N06 somewhere along the way. The road is gravel for about half the distance over to Highway 89. It's quite narrow in a number of spots (single lane). There are several undeveloped campgrounds and picnic areas identified along the road.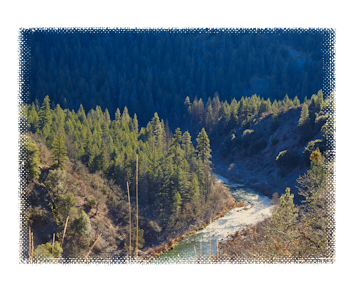 The Pit River is well known for spectacular fly fishing. There is another fishing platform with handicap parking, and ADA restroom near Pit River number 3 (Dam and power station). Anyway, you'll know it when you see it. Getting down to the river's edge with a walker or wheelchair may be both difficult and dangerous, so I suggest using the PG and E fishing platforms instead of the shoreline for fishing or photography.
I didn't actually check any of the campgrounds for wheelchair accessibility, but none are what is considered 'developed'. However, if you are used to rough camping, a number of locations looked flat enough to be feasible for tent camping with hard packed roads and trails. There are possibilities, not certainties, for properly equipped disability-friendly camping. Because PG and E can do unannounced water releases in several locations, do not camp too close to the river's edge. If you are in a wheelchair at the rivers edge the water levels could suddenly change and you could be in trouble in terms of leaving the river. Be a smart outdoorsman and take the posted information seriously.
As you get closer to Lake Britton the road becomes paved again. We reached a spot near the lake where multiple roads intersect. We were likely on USFS 37N06 and we needed to change to USFS 37N05. This is where it gets tricky as the roads tend to be very poorly marked. With a little luck, we headed roughly straight ahead and within a few miles we reached Highway 89.
Alternatively, if we had made a hard right turn at the multi-intersection, Clark Creek Rd will cut back and go down to the Lake Britton dam, and then across behind MacArthur Burney Falls State Park. To return to Redding, we took highway 89 south, then Highway 299 west through Johnson Park and Burney. There's a nice little diner, called Annie's Country Kitchen in Burney that serves great food and is wheelchair friendly.
The Pit River area is just as pretty going the other direction (west from 89), too. Plan a day trip with a picnic stop, or maybe some fishing. I've gotten some interesting bird photos on the bigger PG and E reservoirs along the Pit River, so there are some really good opportunities for pics if you take your time and don't rush. The 'golden hours' for photography seldom work in the mountains, so just do the best you can with the lighting conditions available. There is so much scenery along the Pit River that you'll come home happy!
There are lots (and lots, and lots) of places yet to be reviewed for accessibility and I am unlikely to get to them all. So that others may find some new places, I've compiled a draft list of locations that may be wheelchair accessible. These are POSSIBILITIES, no certainties. Some places may be complete duds. ATTENTION: this is a ROUGH draft list - mostly for my own use, so if you use this draft list, lower your expectations and do your homework! DRAFT SHASTA COUNTY ACCESSIBLE RECREATION LIST