Lassen Volcanic National Park
Thought for today: Philippians 4:8 ..Whatever is true, whatever is noble, whatever is pure, whatever is lovely, whatever is admirable - if anything is excellent or praiseworthy, think about such things..
Disclaimer: There is no assurance that any resource or activity I've found or described will be as 'accessible' as you might need. Information or links may be out of date. Use the information at your own risk and be sure to check with your health care professional for exercise advice.

Lassen Volcanic National Park in northern California is one of the least known, least visited of our national parks. The Park is about 106,448 acres surrounded by Lassen National Forest, in eastern Shasta County and spilling into both Lassen County and Plumas Counties.
The often snow-covered Lassen Peak and Brokeoff Mountain dominates the eastern skyline when seen from Redding. It's less than 50 miles from Redding, making it easy to do a day-trip and have a picnic in the Park. (Manzanita Lake is perfect for picnics.)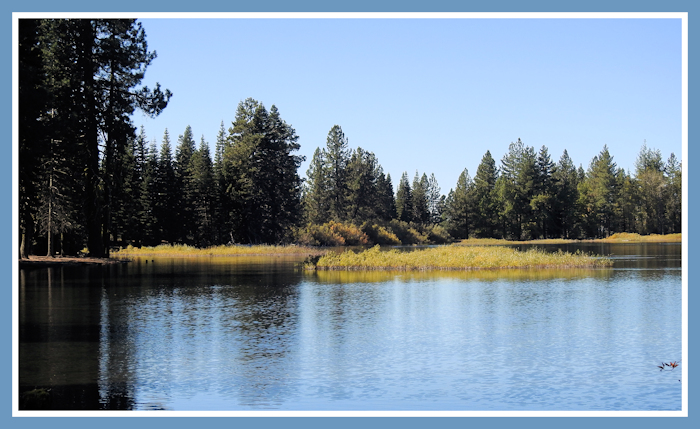 The primary reason Lassen Volcanic is among the least visited Parks is that the very scenic road through the Park (Highway 89) is closed due to snow from the first heavy snow of the season until they get the road cleared the following spring or summer. Lassen Peak is one of the snowiest places in California! In 2017 the road through the Park opened in late July and is likely to close with the first heavy snow, often in November or December.
A quick history of the Park.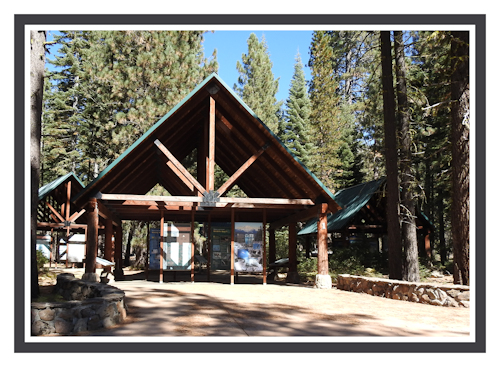 This year we've made several trips to Lassen since it opened this summer. Like most of the National Parks, there are some 'accessible recreation' features for persons using mobility devices, and I wanted to explore the options.
But, even before you get into the Park, there is an area known as Lassen Crossroads. It is a very nice information center that is right where Highway 89 turns to go to the Park. It is wheelchair accessible and has a short trail and lost of information in the display kiosks, and many people miss it in their hurry to get to the Park, and that's a shame.
Beyond the covered Information Platforms and the ADA restrooms, there is a nice fern-lined trail that is wheelchair suitable that goes over to the stone 'monument' that was the original marker for the Park. It's not a long trail but in spring the ferns are gorgeously green and in autumn the ferns are spectacularly golden before they turn basic brown. It's definitely worth the stop!
First, on everyone's to-do list at Lassen Vlocanic National Park should be the 'Scenic Drive' through the park. State Highway 89 passes south-north through the park, beginning at State Highway 36 to the south and ending at State Highway 44 to the north. While it is only 30 plus miles, the speed limit is around 30mph, and at peak visitor season, it can be a slow drive. There is so much spectacular scenery that we stop at nearly every turnout to enjoy the views, so it takes a several hours.
We usually allow 3 hours or more to cross the Park due to all the stops to take photos of everything from vistas, flowers, butterflies, rocky streams, pristine lakes, snow, fumeroles, lava formations and of course Lassen Peak and the various lakes. Auto Touring the Park.
Since we live nearest the Highway 44 entrance, we usually go in the Park from Highway 44. There are map handouts at each entrance, but If you are a first-timer, do take the time to stop at the main Visitor Center (near Highway 36) and purchase a booklet that explains all the numbered markers. Since I don't want to unload my mobility device at every single stop, having the printed guide is really, really nice and well worth the $7. In fact, if you have mobility challenges, you may want to drive through the park (without stopping) and pick up your guide, then start back through stopping at each marker. Or, stop at photo points, go to the visitor Center and then stop at the markers on the way back. You choose.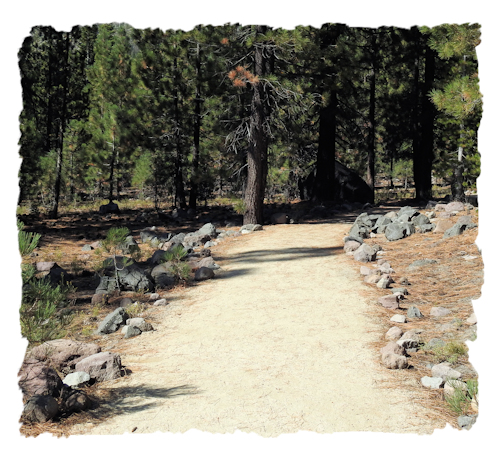 This year I hiked the wheelchair accessible Devastated Area Trail, which is a hard-packed trail about .5 mile long. The elevation is high so it was more tiring than expected. An unexpected plus was that each marker along the trail also had audio options to listen to the descriptions. There is some elevation change in this trail, but it should be manageable even with a manual chair unless you tire really easily.
We also stopped at the Kings Creek Picnic Area, which is really pretty. There is a well-trod trail that is wheelchair suitable for a stretch that leads from the bottom end of the Kings Creek Picnic area towards Kings Creek. This is due to the soils being compacked as the trail is unpaved. Stop when you get to the creek as the trail gets much rougher beyond that point. Again, there is a slight descent in elevation, but it will be manageable for most wheelers. Just don't underestimate how much a change in elevation affects energy.
This whole Park is an active volcanic area, so stay ON trails. Don't wander off, particularly in the area of the older caldera where there are fumeroles, hot boiling, mud, etc. Bumpass Hell is NOT wheelchair accessible though there will be some accessible viewpoints when the trail remodel is completed. The Sulpher Works area is wheelchair accessible, and will be smelly and steamy enough to satisfy anyone.
Since we generally spend more time at the northern end of the Park, we usually stop at the Loomis Museum and Manzanita Lake. There are hard packed trails in the area around the museum. Depending on your level of mobility, some exploring is possible by wheelchairs and other devices. Just remember that she who goes down a sloping trail also has to come back up. These pathways are sometimes steeper than would be advisable for manual wheelchairs unless you have assistance, and you may want to spend you energies elsewhere in the Park. Just wheel wisely.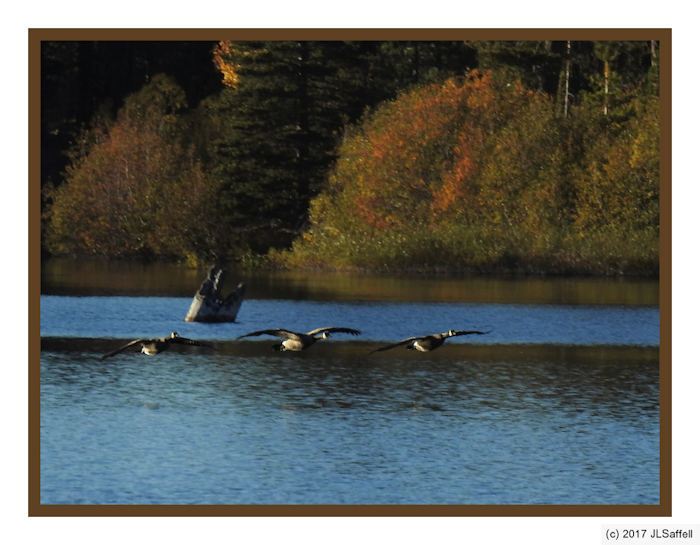 Manzanita Lake is one of my favorite places. I find that if we go down to the Lake to the area by the 'boat ramp' I can wheel easily to picnic tables along the shoreline. There is an added plus in that this location, near the boat ramp, is wonderful for photography. In October, you get the beauty of the foliage changing colors and migrating waterfowl often stop and feed in the lake during the 'golden hours' before sunset. If you park wisely, you can use your vehicle as a sort of 'bird blind' and depending on what direction you point your camera, you can get some wonderful photos of birds landing, diving, fishing, and with coots - birds running on water. So snap away!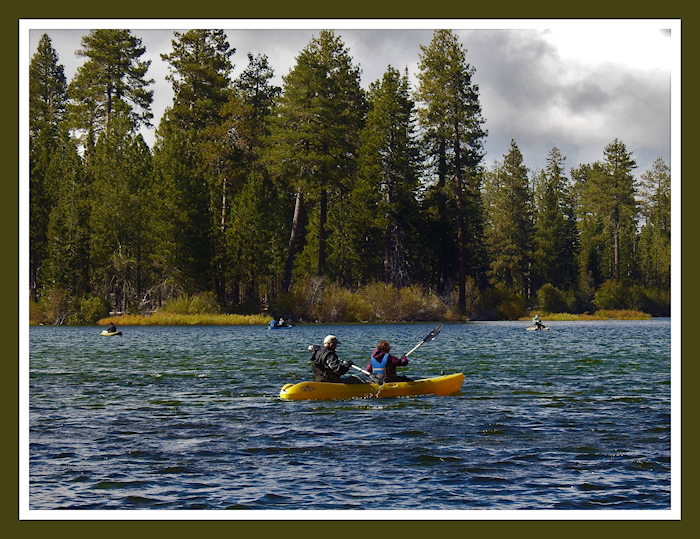 We haven't had a reason to stay at the wheelchair accessible campgrounds within the Park, so I can't comment on them. Outside the park, there are USFS campgrounds along Hat Creek, some of which are wheelchair suitable in terms of being flat enough. I don't think any are currently designated as wheelchair accessible, but you can check the Lassen National Forest list.
There are private campgrounds, too, along Hat Creek, some of which should have wheelchair suitable access. The PG and E campground near Cassel and Baum Lake is fully accessible and Baum Lake also has a wheelchair fishing platform and is a great photographic location.
Redding isn't all that far and under 50 miles or about 1 hour in driving time. It's entirely possible to stay in Redding and make one or more day-trips to enjoy Lassen Volcanic National Park. On the south side of the Park, Chester (at Lake Almanor) has some nice hotels and restaurants. Thus everyone has options as to where to make their Lassen Volcanic National Park vacation headquarters.
There is so much to see (and photograph) in the volcanic regions around Lassen Volcanic National Park and going north, that you'll want to plan multiple trips. Remember, there is lots of fall color in all of these counties if you know where to look!
Fall Colors
*There are lots (and lots, and lots) of places yet to be reviewed for wheelchair accessibility and I am unlikely to get to them all. So that others may find some new places, I've compiled a draft list of locations that may be wheelchair accessible. These are POSSIBILITIES, no certainties. Some places may be complete duds. ATTENTION: this is a ROUGH draft list - mostly for my own use, so if you use this draft list, lower your expectations and do your homework! DRAFT SHASTA COUNTY ACCESSIBLE RECREATION LIST