Lema Ranch Trails
Thought for today: Philippians 4:8 ..Whatever is true, whatever is noble, whatever is pure, whatever is lovely, whatever is admirable - if anything is excellent or praiseworthy, think about such things..
Disclaimer: There is no assurance that any resource or activity I've found or described will be as 'accessible' as you might need. Information or links may be out of date. Use the information at your own risk and be sure to check with your health care professional for exercise advice.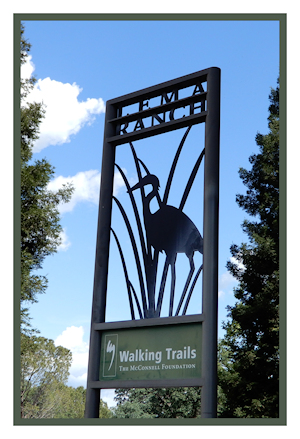 April is a perfect month to walk the Lema Ranch trails just east of Redding. The grasses are green, the wildflowers are blooming. There are water fowl at the ponds. And the weather is delightfully cool.
The land is east of Redding off Shasta View Drive, north of Highway 44. With the large amount of acreage, it's park-like, enhanced with the 5 ponds. It's a rather unique setting. There are subdivisions and a large school around the ranch lands perimeter, but due to the terrain, it feels more isolated than it actually is. It's definitely a gem of a trail for Redding walkers and barrier-free for wheelchair users. It is well designed and managed.
Map: LemaRanchChurnCreek2014.pdf
Originally a working mule ranch belonging to Chuck and Peggy Lema in the 1950s, the property's 200 acres are now home to the McConnell Foundation Headquarters. Trails take walkers through a classic blue oak woodland, with manzanita and gray pine along with riparian habitat. It is a managed 'natural' area.
Lema Ranch Trails include 4 miles of paved walking trails that showcase five ponds on the 200 acre property. There is also 4 miles of unpaved bike trails in the Churn Creek Open Space. No dogs are allowed on the Lema Ranch trails and bicycles are only allowed on designated bikeways. Trails are open from dawn to dusk.
With permission, photographs may be taken in certain areas. It's a pretty area to walk, lots of flowers, scenic views of the ponds and wildlife.
We had never visited Lema Ranch before today, so we actually missed the turn into the headquarters facilities and instead ended up at the northern parking lot. We drove north on Shasta View Rd and turned left (west) at Hemingway St. as it looked about right for where a trail might start.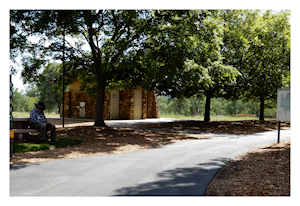 There is a nice large paved parking lot, some shaded benches and tables, and an ADA restroom. Since it was late afternoon, this particular access point was fortuitous as we went down the pathway leading to the west side of 'Secluded Pond'. That put the sun behind me as I took photos over the pond areas. The trail dead ends along the pond in this segment so it's down and back.
The paved trail is quite wide, around 8 foot and in very good shape. While the trail surface from side to side is level, the path we chose has ups and downs. Basically, you walk (or roll) down to one of the ponds over some small dips and swales, and then return the same way - and it's a pretty good push uphill. Fortunately there are several benches to provide rest stops, and quite a bit of shade.
Partway down the trail to the 'Secluded Pond', there was a side trail of compacted dirt that led off to a bench under a tree.
I found it manageable to get to that off-trail bench with my Walk'n'Chair, but the two rocked ditch crossings may be marginal for an unassisted wheelchair user or someone with a traditional rollator. So you may wish to stay with the pavement.
The trail to the 'Secluded Pond' is not level. It does take some energy to negotiate the modest inclines as you go down towards the pond. Of course coming back up is a push, too. Additional pathways do intersect with this trail so pay some attention to signs.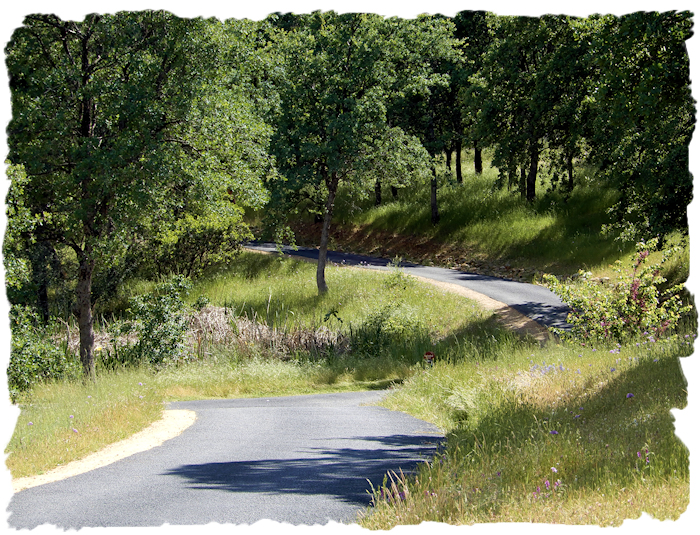 The dips and rolls of the trail do provide visual interest. You want to see what is over the hill or around the next bend. There was a patch if what looked like yellow iris. Some golden California Poppies added a big splash of trailside color. The pond views are quite lovely. Waterfowl ventured out on the pond. Red Wing Blackbirds observed from the sidelines.
If you want or need a more level pathway without dips and slopes, I think the trails nearest the Headquarters buildings and adjacent some of the other ponds would be easiest and flattest in terrain. People walking are very friendly so you might just ask someone who walks there regularly, where the most level pathway can be found. I just happen to have picked the hilliest trail by accident, and while I enjoyed it, the trip back up to the parking area was a literal uphill push. If you are using a standard manual wheelchair, you should take a willing friend along in case you need a helping hand getting back to the parking lot.
I did enjoy watching the geese take baths on the pond. I hadn't seen a Canadian Goose completely dive under the water before and thrash around and then pop back up. The one I was watching performed that action several times so it must have enjoyed it.
Lema Ranch provides a very good walking (or rolling) experience. Do take advantage of the trails, especially in spring!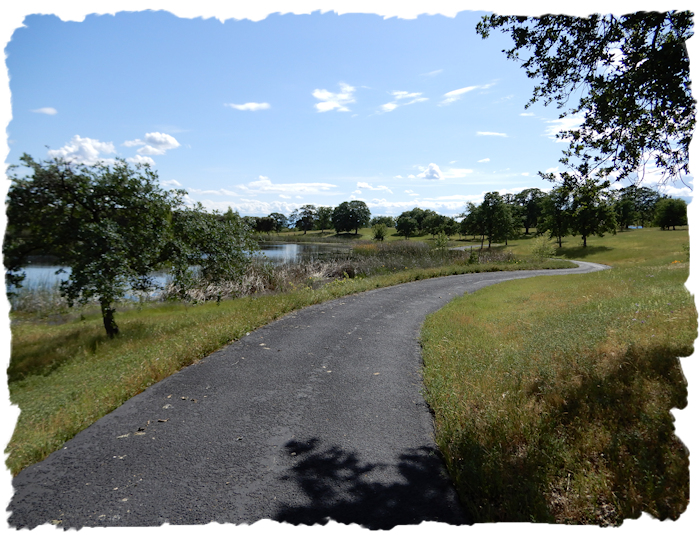 *There are lots (and lots, and lots) of places yet to be reviewed for accessibility and I am unlikely to get to them all. So that others may find some new places, I've compiled a draft list of locations that may be wheelchair accessible. These are POSSIBILITIES, no certainties. Some places may be complete duds. ATTENTION: this is a ROUGH draft list - mostly for my own use, so if you use this draft list, lower your expectations and do your homework! DRAFT SHASTA COUNTY ACCESSIBLE RECREATION LIST