Pit River Campground: BLM
Thought for today: Philippians 4:8 ..Whatever is true, whatever is noble, whatever is pure, whatever is lovely, whatever is admirable - if anything is excellent or praiseworthy, think about such things..
Disclaimer: There is no assurance that any resource or activity I've found or described will be as 'accessible' as you might need. Information or links may be out of date. Use the information at your own risk and be sure to check with your health care professional for exercise advice.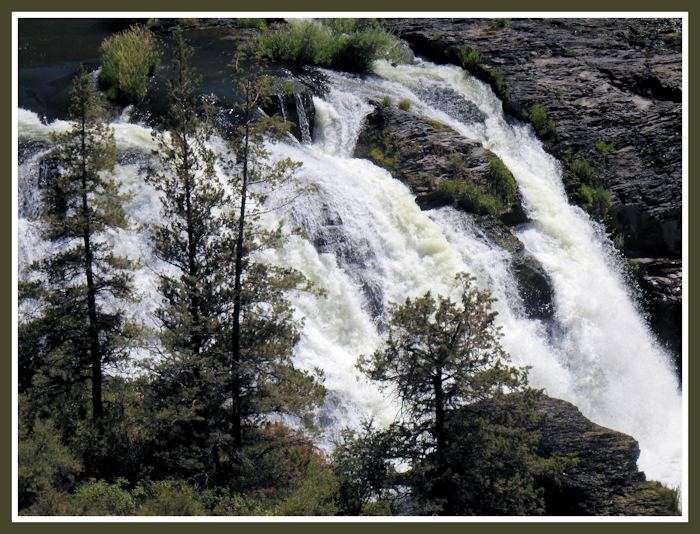 As a prequel, there is a nice overlook for the Pit River Falls off Highway 299 near Fall River Mills. For photography, you'll need a long zoom lens for that location. I wish there was an easy way to get to the base of the falls, but for the mobility challenged, there isn't. Still, you can get some spectacular photos from the Highway 299 Overlook, particularly if there are kayakers doing a run over the falls.
Here's what the Pit River Falls looks like from a kayaker's viewpoint - not the view you'll get from the overlook (and yes, it is as dangerous as it looks).
The highway overlook for Pit Falls is nicely paved, with wheelchair access to the viewpoint. There is a picnic table and a viewpoint bench. (I don't remember if there is a restroom but I don't think there was one.) As far as I can tell from maps, people who are able to walk unaided, could hike into Pit Falls along the old abandoned railway accessed by a different road but visible from the overlook. However, I don't think a person can drive directly to the base of Pit Falls, nor does the trail terrain look suitable to for using an all-terrain wheelchair or walker to get to the base of the falls. So, stick to the overlook for a view of the falls and BLM's Pit River Campground which has Pit River access.
Bureau of Land Management's (BLM) Pit River Campground is in far eastern Shasta County off scenic Highway 299E. The campground location is just west of the town of Fall River Mills. As named, it's on the Pit River. It is a popular location with kayakers as the campground is one of the take-out points for people who are brave enough to tackle the Pit River Falls which is upstream from the campground.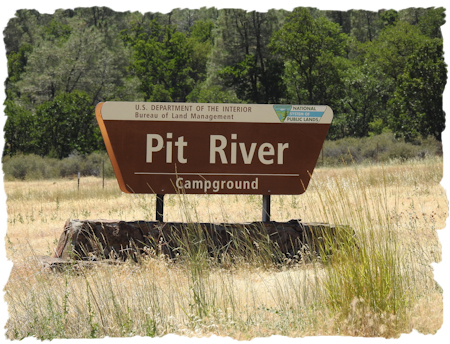 Backtracking to the Pit River Campground from the Pit Falls Overlook, watch for the large BLM sign and take the paved road down towards the river. As you go down the roadway, you'll see the entrance to Clearwater Lodge, which is a well-known fishing lodge. Unfortunately, the Clearwater Lodge does not appear to be handicap friendly as I saw a lot of stairs and no ramps anywhere. But I couldn't find anyone to actually ask about access.
Stay to the right. The road surface turns to gravel as it goes onto BLM land. The BLM campground is not large with about 8 spaces. The road and camping slips are hard packed gravel and there is lots of shade. Each campsite has a nice concrete picnic table and fire pedestal. There is an ADA bathroom, (maybe 2). Be alert to the base around the restroom which may have some erosion around the edges making entering a little more difficult.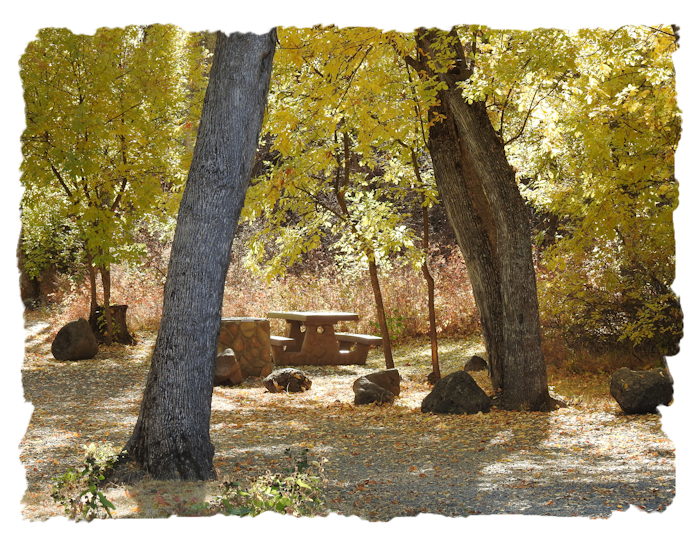 Photographically, the best time to camp there is in autumn (or during a kayak event). The golden foliage in the campground is visually spectacular! It's a great place for a picnic or for a family gathering. It also a lovely location to camp but it may get a little cold at night.
A portion of the campground is Day Use, which includes the short packed gravel trail to both the swimming hole and the fishing area. The day-use swimming hole is not what I would call handicap friendly as it is pretty darn rocky and somewhat steep to get into the water.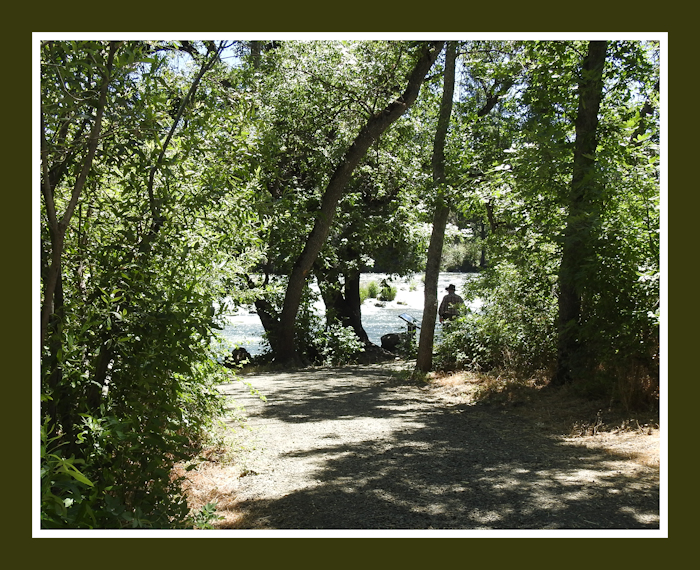 The fishing area, and packed gravel trail to it, are handicap friendly. The designated fishing area slopes somewhat, so be sure to set your device brakes should you actually want to fish from there. There is plenty of room for a couple of people to set up chairs and fish comfortably. Additionally, there is a very pretty view of the river, with some whitewater riffles.
I had no difficulty negotiating the gravel roadway and camping areas with my all-terrain rolling walker. Since the area is hard packed gravel not pavement, you'll have to decide if your particular mobility device will be able to handle the surfaces. The campground area is pretty level, so that's a plus. Each time I've been there at least one carload of persons with disabilities has stopped at the campground to admire the river views. So, I am comfortable in recommending it as a disability-friendly stop.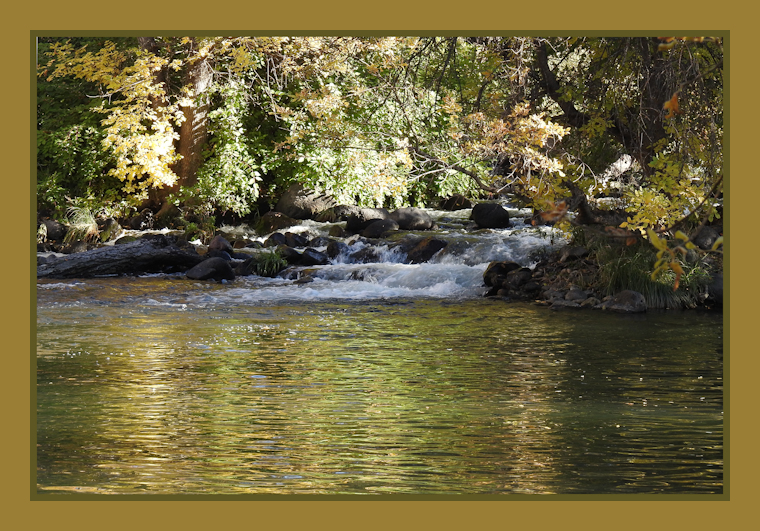 It's first come, first serve for the camp sites. Most summer months there is an on-site campground host, who may be able to suggest additional places to hike along the Pit River. The town of Fall River Mills is a short drive away so additional supplies are easy to obtain.
I haven't been at the campground during a kayak event, so I can't really say how busy it might be. But, I've been told that during any kayak event, the camp sites are usually full. There would also be a lot of activity in the Day Use area with kayakers taking their craft out of the water and going back upriver for another run. So, decide what you'll do if the campground is full of people.
It's a nice stop for any purpose: Picnicking, fishing, photography, camping, or just a stop to admire the river view. Oh, and sometimes you just need a 'pit' stop, no pun intended.
*There are lots (and lots, and lots) of places yet to be reviewed for wheelchair accessibility and I am unlikely to get to them all. So that others may find some new places, I've compiled a draft list of locations that may be wheelchair accessible. These are POSSIBILITIES, no certainties. Some places may be complete duds. ATTENTION: this is a ROUGH draft list - mostly for my own use, so if you use this draft list, lower your expectations and do your homework! DRAFT SHASTA COUNTY ACCESSIBLE RECREATION LIST