Juanita Lake
Thought for today: Philippians 4:8 ..Whatever is true, whatever is noble, whatever is pure, whatever is lovely, whatever is admirable - if anything is excellent or praiseworthy, think about such things..
Disclaimer: There is no assurance that any resource or activity I've found or described will be as 'accessible' as you might need. Information or links may be out of date. Use the information at your own risk and be sure to check with your health care professional for exercise advice.
Juanita Lake Campgroundis located in Klamath National Forest on the Gooseneck District in Siskiyou County. The area offers a stellar combination of wheelchair accessible recreation opportunities
.
To get there, from I-5 at Weed, CA travel northeast on State Hwy 97 approximately 35 miles to Ball Mountain Rd. Turn west (left) on Ball Mtn Road and go about 4 miles. Turn right on USFS 46N04 and continue to Juanita Lake and Campground. From the North, traveling south on Highway 97, turn west (right) approximately 3.8 miles south of the town of Macdoel on the Ball Mtn. Road. Go about 4 miles to USFS 46N04. Turn right on 46N04 and continue to Juanita Lake and Campground. These are paved roadways, but winter snows may close access.
In September 2017, we attended the Montague Hot Air Balloon Fair and decided to come cross country over to Highway 97. From Montague we took the road denoted on maps as Ball Mountain Little Shasta Rd. You really do need a 4x4 vehicle, good maps, and be familiar with reading USFS maps and deciphering tire tracks as this road is basically a dirt road through the mountains. It's not all that far but it will take a couple of hours to go across the forested lands while deciphering roadways traveling at 20mph or less.
It's truly lovely trek, but watch the weather as one could get seriously stuck in the less traveled boondocks. Along the way you'll see some interesting lava formations, reminding you of the volcanic history of the area. There may be active logging occurring so pay attention. For our trip, we really didn't see anyone at all - just wildlife and scenery! That also meant that if we HAD experienced any difficulties, there wouldn't have been any help to be found.
As we got closer to Highway 97 the roadways improved and we came across a paved road that turned out to be USFS 46N04 complete with directional signs to Juanita Lake. Back into the forest we went in search of that Lake, and boy am I glad we did that!
Juanita Lake has to be one of the most beautiful destinations in the Klamath National Forest. Plus, if you use a wheelchair or a rolling walker, you are going to enjoy the paved trail around the lake, the fishing platform, the varied lake access, and the whole experience! It's just gorgeous, gorgeous, gorgeous! (and I don't say that lightly)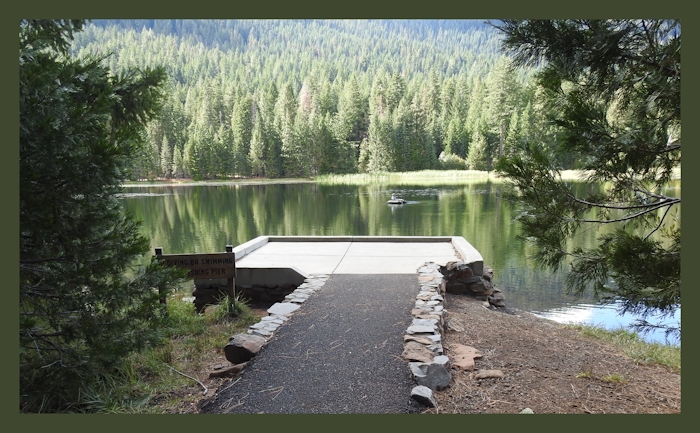 The campground has 23 campsites, most of which appear to be disability-friendly. The 55 acre lake is stocked with trout and has a bass and catfish population. A 1.5 mile paved, barrier free trail circles the lake with 2 wheelchair accessible fishing points for easy access to the lake. No motorized boats (gas or electric) allowed on the lake but canoes, kayaks, waders, rafts are fine. Special notes: No bicycles on trail. No ATV use in campground and dogs must be leashed. There are additional hiking trails in the area but I don't know if any are considered disability suitable.
The trail around Juanita Lake is paved, wide enough for easy wheelchair use, and pretty level. It follows the shoreline. In some portions around the lake there can be little shade, but the views of the Lake and the mountains are spectacular!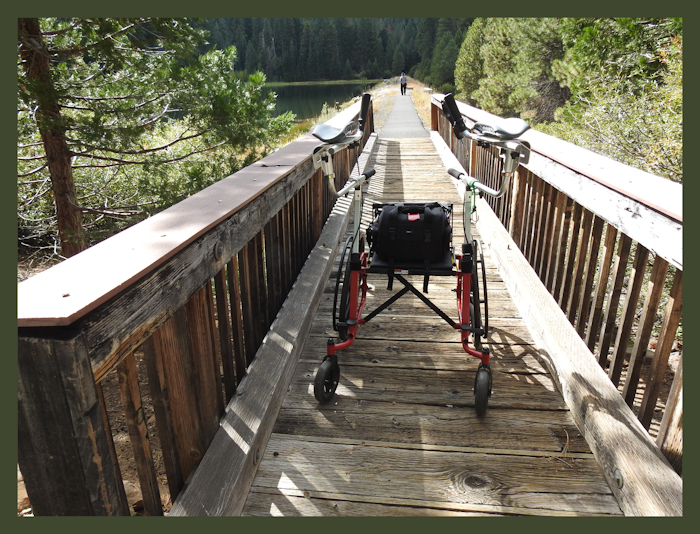 There are picnic tables along the shoreline near the wheelchair accessible fishing platform. The shoreline picnic tables are set in dirt, not paved, and may be need some assistance to get to. Plus, and the areas around the picnic tables are not flat but sloped.
There are some paved road areas between the lake and the campground that may have some steeper pitches and if you are using a manual wheelchair you may need a push. Rolling walkers should be fine, though an all-terrain rollator is definitely recommended to get off the trail or off-pavement. Overall, though, the whole lake area seems quite accessible for wheelers and still retains a great camping atmosphere
While we were only at Juanita Lake for lunch, I took some great photos of the ducks in the lake, the floating fishermen, the trails and everything else I could see! If we ever go camping, this place will be at the top of my list!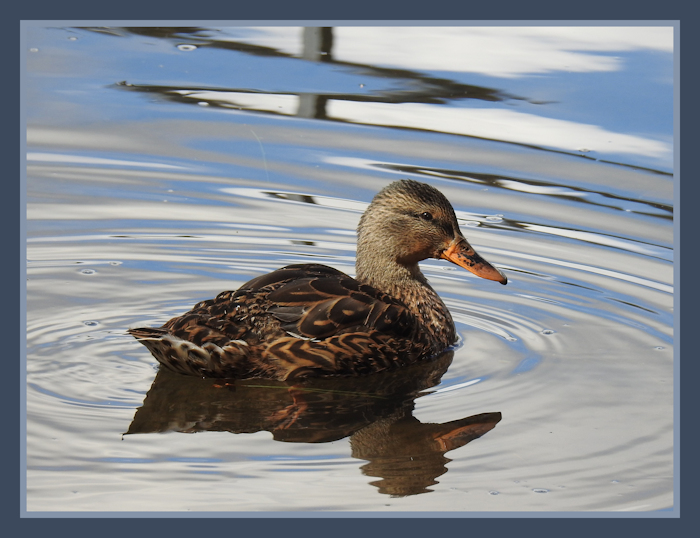 Juanita Lake Campground is within an easy driving distance to the Lower Klamath and Tule Lake National Wildlife Refuges, Lava Beds National Monument, and Medicine Lake Highlands. Believe me, there is more than enough to see and do to merit adding Juanita Lake to your Bucket List, even if you just come by for lunch!
*There are lots (and lots, and lots) of places yet to be reviewed for wheelchair accessibility and I am unlikely to get to them all. So that others may find some new places, I've compiled a draft list of locations that may be wheelchair accessible. These are POSSIBILITIES, no certainties. Some places may be complete duds. ATTENTION: this is a ROUGH draft list - mostly for my own use, so if you use this draft list, lower your expectations and do your homework! DRAFT SISKIYOU COUNTY ACCESSIBLE RECREATION LIST