McCloud Falls and Vicinity
Thought for today: Philippians 4:8 ..Whatever is true, whatever is noble, whatever is pure, whatever is lovely, whatever is admirable - if anything is excellent or praiseworthy, think about such things..
Disclaimer: There is no assurance that any resource or activity I've found or described will be as 'accessible' as you might need. Information or links may be out of date. Use the information at your own risk and be sure to check with your health care professional for exercise advice.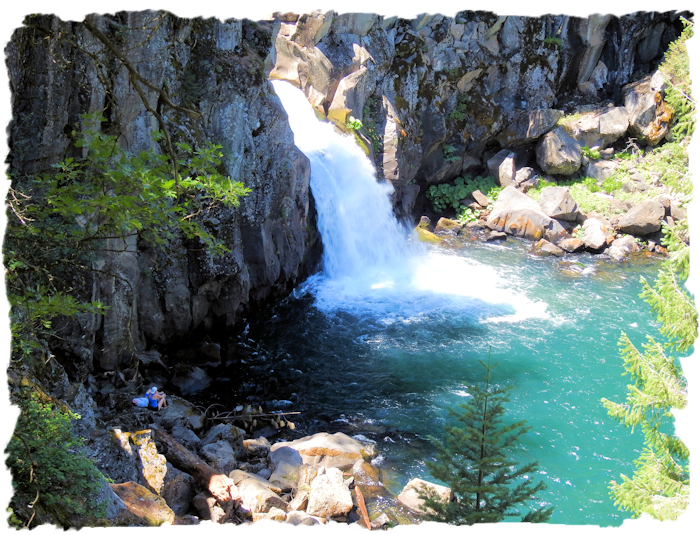 Upper McCloud Falls
As a destination, the whole area around Mount Shasta has innumerable possibilities for photography, hiking, camping, fishing, boating, and yes, resort accommodations, too. McCloud Falls is comprised of three large waterfalls (Upper, Middle and Lower Falls). Each waterfall has a seperate observation point and each observation point is accessible by wheelchairs.
For outdoor recreation it's hard to beat this whole area. I recommend stopping by the McCloud Ranger Station at 2019 Forest Road on the north side of Highway 89 on the east side of McCloud to pick up local recreation guides and visit with the staff. Phone: (530) 964-2184.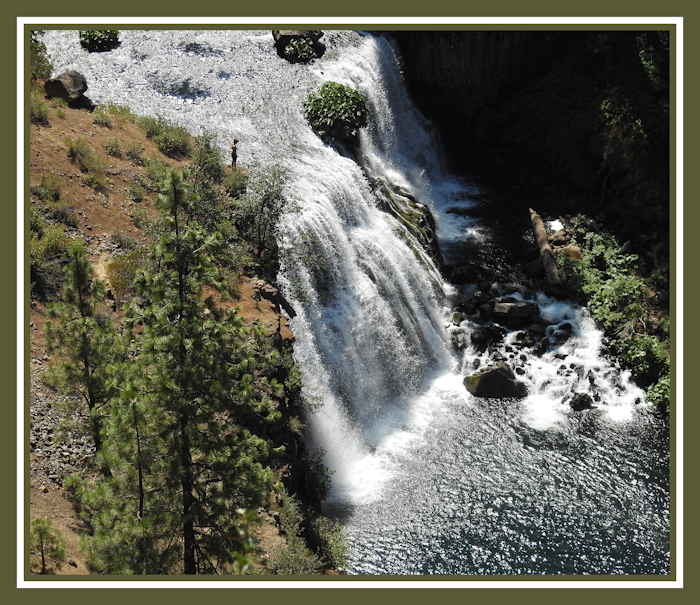 Middle McCloud Falls
I love to photograph the McCloud Falls mid-week in Spring or Fall as there are the fewest people visiting. The paved roads leading from Highway 89 into viewing areas of the falls are open after snow melts - typically April though early December. During winter, Highway 89 is plowed but the USFS roads to each falls overlook are not kept open.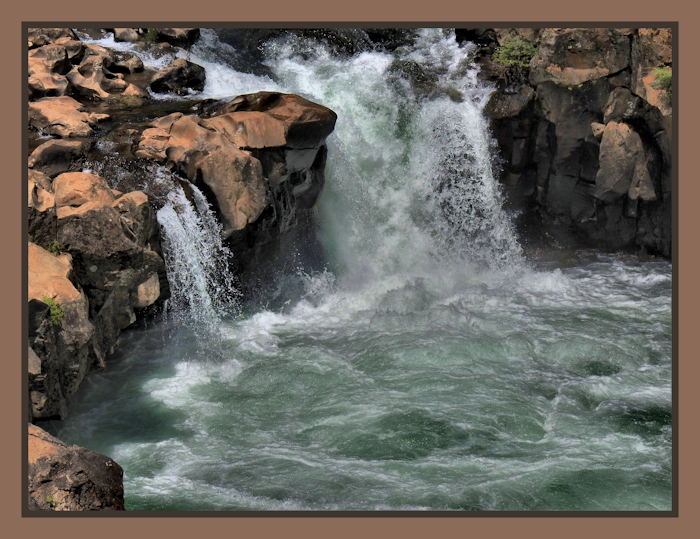 Lower McCloud Falls
Preview: Glimpse all three falls Overlooks
While it's possible to view all 3 falls along the McCloud River in one day, I suggest that you plan and allow more time to really explore the area and allow yourself the luxury of taking a gazillion photos. It seems like everyone is in too much of a hurry to really enjoy the outdoor experience.
People pop out of their cars, race to the overlooks, position their phone cameras for selfies or family pics, snap and run back to their cars without every really seeing the falls at all. Don't be that person! Allow yourself time to really SEE the area. The uniqueness of the light on the water, the rocks, the trees, the soil textures, the insects and wildlife - you are missing all that if you rush from 'feature to feature'.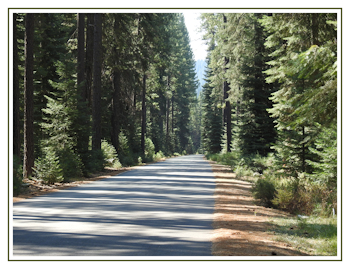 If you are looking for spots to test out your all-terrain mobility device, there are some old skid roads in this area that should be perfect for rolling along. The various the side roads around the falls observation points are generally flat and hard packed dirt.
There may also be active logging occurring in this area, so pay attention for the sound of saws and logging trucks. This is a working forest. Logging helps keep the forest healthy. California is suffering from both years of drought and battling bug infestations that kill trees. Bug-killed trees are fire hazards and if not removed, spread the infestation.
Upper Falls
Directions to the Upper Falls Trailhead: Use Highway 89 for 15 miles east of the I-5/89 junction and 5 miles east of McCloud and turn south on Road 40N44. Go right at .6 mile (a left here takes you to overlooks of Middle Falls and Upper Falls) Continue another .7 mile past the campground and park at the picnic area at the Lower Falls. Or drive east on Highway 89 until you see the Cattle Camp Campground sign and turn south down that road.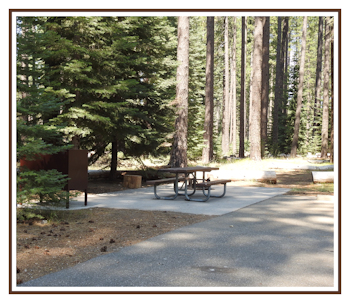 On the way you'll see the road to Cattle Camp Campground. It is considered wheelchair accessible and it's a really nice location with wheelchair accessible restrooms and very nice campsites. Each campsite is paved, with a picnic table, and bear box. The campground is 'roomier' than Fowlers Campground, and more level in terrain.
A little farther down the main road is the Cattle Camp Swimming Hole, which has a restroom that is definitely not wheelchair accessible. Though it has the appropriate symbol, it is lacking ramp access for the 6 inch concrete slab the restroom is perched upon. That being said, the swimming hole has possibilities both for photographs and for dipping your toes but this whole area is unpaved. This stretch of the McCloud River is fairly shallow, with large rocks on the bottom. I tried out my new polarized circular lens there to see how much difference it made in water shots (a lot).
I think with some assistance most people who use a mobility device would be able to get in the river shallows or at least put their toes in. But it is not a 'developed area' and the ground is rough, so keep that in mind. It's also pretty cold water. Remember, the rugged whitewater falls are downstream so DO NOT FLOAT DOWNSTREAM.
Upper Falls Viewing Area
There is paved parking and a paved trail to the Upper Falls viewing area. The overlook has railings. The viewing area is wheelchair accessible. There is an ADA-type restroom and one rustic picnic table resting in dirt along the river. Lots of people bring their own chairs to enjoy the riverside ambience. There is no paving down to the river or around the picnic table.
On the left-hand side of the parking/picnic area, there is a sort of dirt 'path' complete with tree roots, sloping down to the river's edge. It makes for pretty pictures of the river with lots of water's edge foliage. I would never recommend going in the water here as the river runs fast and very cold, and just a little farther down is the Upper Falls. You do not want to accidentally go over the Falls, so stay out of the water and keep your pets out of the water, too.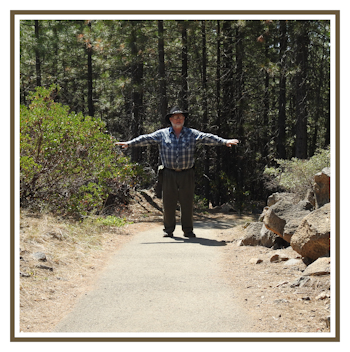 To get to the Upper Falls viewing area, take the paved trail on the right. The pathway is reasonably level but is not flat everywhere. It leads to several railed viewing areas that overlook various aspects of the McCloud River and the Upper Falls. There are some really good photo opportunities here with extremes of lighting and dramatic rocks. Bring your tripod for shot stability and spend some time enjoying the view and don't be in a hurry to 'snap and run'. Each waterfall has its own beauty that changes as the day progresses.
Note: There seems to be a new activity among visitors, and that is tree hugging and tree kissing. We came across a couple of ladies who walked from tree to tree, first giving the tree a hug and then kissing the tree. I'm sure the trees felt very loved. I like the trees around our house, but....
At the overlooks, I suggest avoiding the lure of any dirt 'side trails' up to the railings. The exposed soils erode easily and the dirt areas are much steeper than they look. You could have difficulty getting back up to the paved path with a walker or wheelchair. Generally, the dirt areas along the railings are not the best photo locations anyway. Resist the urge and stay on the paved trail.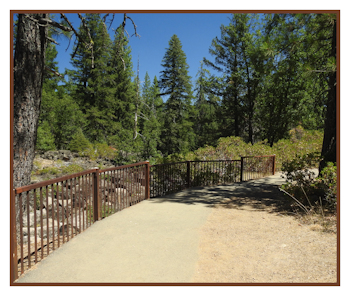 As you progress downstream along the railed area, the paved path ends in a dirt trail that takes off down to the Middle Falls. In 2017 this trail from the Upper Falls to the Middle Falls is definitely NOT wheelchair suitable. About 100 feet down the dirt trail, the path width had eroded to about 14 inches wide with a steep drop off towards the river (which is quite a long drop) and leaning side slope, due to people leaving the trail to search for ways down to the base of the falls. The trail is pretty narrow overall and it's somewhat hard for people walking in opposite directions to even pass by others easily.
The trail from Upper Falls to the Middle Falls is sufficiently impassible that I wouldn't recommend attempting this section with either a rolling walker or a wheelchair, even the all-terrain types. I suggest reversing course, staying with the paved trail and driving on down to the Middle Falls parking lot, which also has a paved path to the next falls viewpoint.
McCloud Middle Falls
When we were there last, the signs for the Middle Falls parking lot were missing. As you drive down the paved roadway, look for the paved parking area surrounded by tall brush. The parking area entrance is basically a gap in the brush. There is handicap parking, and a wheelchair accessible restroom. The somewhat brushy overgrown paved path leads to the Middle Falls Overlook. Stay on the paved path.
Middle McCloud Falls is very popular with people who like to jump off of cliffs into water (which may be why the signs are missing). That can make for great photo opportunities. People who have climbed down to the river can add some scale to your images illustrating that these Falls are really, really tall. It could also mean you'll watch someone do something incredibly dangerous and stupid. Note - There is no wheelchair access from the Middle Falls overlook area to the river or from the Lower Falls Trail to the base of the Middle Falls. Again, stay with the paved trails.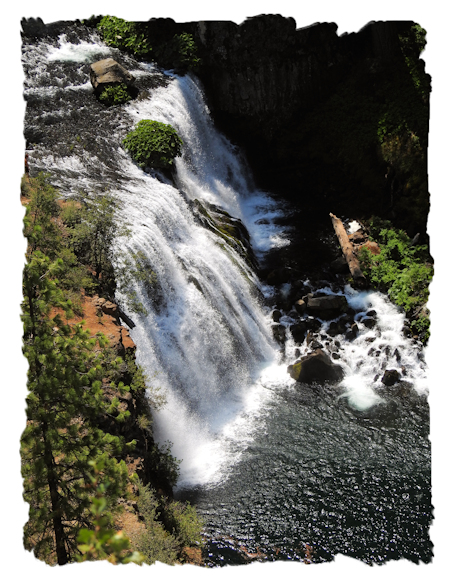 Actually, you won't be able to see or photograph a person jump over Middle Falls (if they are doing it that day) as the correct spot to see them leap is out of sight from the observation points at the overlook. In my photos you can see a girl and guy. The actual jump point is out of sight below the girl (I think it was a girl). I was seriously concerned that the young man would select the wrong spot as he spent many nerve wracking minutes walking back and forth across the top of the falls. As you can see from the observation point, choosing the wrong spot could be fatal. He eventually made his jump successfully, but all I saw was him in the water below the falls after the jump. This kind of recreational activity (cliff jumping) is actually quite dangerous.
If you don't need the adrenaline rush of seeing people jump off a cliff, then go visit the falls on a weekday (during the school year), when it will be just you and your companions there. Besides, the water is frigid and I think those people who jump off a cliff are crazy. One of the reasons I use a Nikon p900 camera is the very long zoom. It enables me to get great photos without me having to risk life and limb lumbering over a pile of wet rocks.
I know you will wonder if you can't get down to a lower vantage point for a different view of the Falls. There is a trail down from Middle Falls to Lower Falls that is NOT wheelchair accessible. My wonderful husband Bill, hiked it for me to check out accessibility. Alas, it is NOT accessible to wheelchairs or rolling walkers. From the Middle Falls observation area at the top, the steep trail portion uses several switchbacks and a set of stairs (32 steps) to reach the base area of the Middle Falls. A mobility challenged person who uses crutches or hiking poles could have serious difficulty with this trail and for rollers, it's inadvisable.
The trail coming up from Fowlers Campground to the base of Middle Falls is extremely rocky with lots of obstacles in the pathway and several really narrow spots. So, even though the view of the base of Middle Falls is spectacular, and I would love to photograph it, I'll have to settle for Youtube videos and other people's pictures unless I invest in a drone, which I am not planning to do. Note - If you have a drone, be sure to check with the USFS regarding rules of drone use in the McCloud Falls area. I imagine by now that you'd need a permit from the USFS to use a drone for photography on federal lands.
Of course, if you want to watch and listen to the Middle Falls for 40 minutes (minus the hike), here's a good video for that.
Lower Falls
Lower Falls has a fine Day Use and fully wheelchair accessible picnic area. It's a really lovely spot for visitors and photographers as there is a large observation area overlooking the falls with good visual angles. You can set up your tripod with plenty of room to spare. And, since in summer lots of youth like to jump off the rock walls into the water here, as well as Middle Falls, you can have your chance of watching people literally jump off a cliff into frigid water.
There is a paved trail from Lower Falls to Fowlers Campground which is accessible to wheelchair users. You may want to remember that what goes down, down, down may also have to go back up, up, up to get back to camp. AS noted earlier, going from Fowlers Camp to the base of Middle Falls has too many obstacles for wheelers to negotiate successfully.
Near the Day Use area of Lower McCloud Falls, the trail from Fowlers Campground splits with one paved arm going to the picnic area and one paved are going close to the base of the Lower Falls. The paved arm to the Picnic Area had one extremely narrow spot where a tree had fallen across the paved path. Thankfully, USFS staff removed that obstacle in summer 2017. Note: If you see problems on a trail, be sure to tell USFS staff.
Lower McCloud Falls has a 'day use' area. (no fees). A lot of people seem to enjoy swimming immediately below the Lower Falls, or at least jumping in and getting back out. Alas, the river itself is not really wheelchair accessible here or particularly disability friendly. Never mind, the water is cold, cold, cold and is much better enjoyed in beautiful photographs. The picnic area has plenty of wheelchair accessible tables and is easy to traverse. The bathroom is accessible, too. It's quite a nice place to have lunch and spend the day, and many visitors do just that.
The McCloud River is also popular with kayakers, some of who like to start their trip at Lower Falls and go downstream to the McCloud Reservoir ( a beautiful spot!)
Whether you stay in Cattle Camp Campground, or Fowlers Campground or in nearby McCloud, you'll be glad you took the time to visit the three tiers of McCloud Falls. It's simply a gorgeous part of northern California.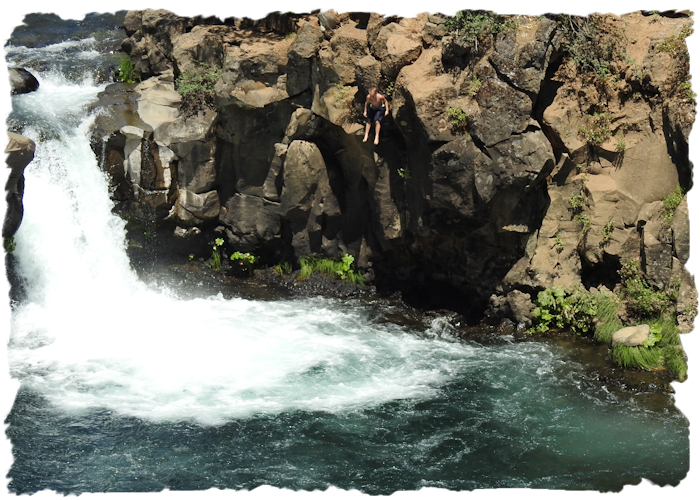 *There are lots (and lots, and lots) of places yet to be reviewed for wheelchair accessibility and I am unlikely to get to them all. So that others may find some new places, I've compiled a draft list of locations that may be wheelchair accessible. These are POSSIBILITIES, no certainties. Some places may be complete duds. ATTENTION: this is a ROUGH draft list - mostly for my own use, so if you use this draft list, lower your expectations and do your homework! DRAFT SISKIYOU COUNTY ACCESSIBLE RECREATION LIST