Medicine Lake Scenic Drive
Thought for today: Philippians 4:8 ..Whatever is true, whatever is noble, whatever is pure, whatever is lovely, whatever is admirable - if anything is excellent or praiseworthy, think about such things..
Disclaimer: There is no assurance that any resource or activity I've found or described will be as 'accessible' as you might need. Information or links may be out of date. Use the information at your own risk and be sure to check with your health care professional for exercise advice.
One Friday morning in August 2017, I checked the local wildfire information to get an idea of where I could go photograph for the day that wouldn't be totally obscured by smoke drift. Medicine Lake showed reasonably clear air so we packed our picnic and headed off to see an old (and fortunately inactive) volcano complete with lake.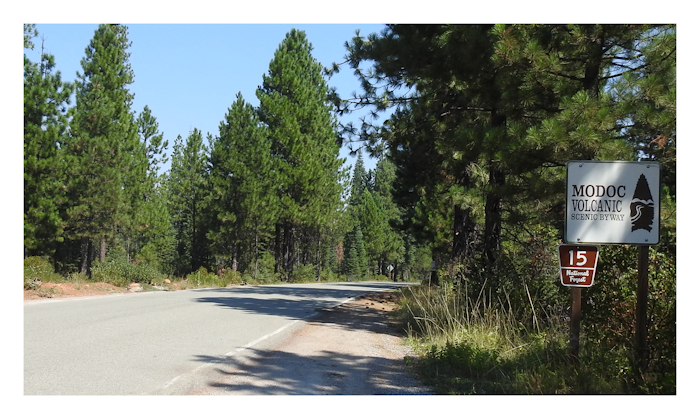 Since we were not planning an overnight stay, this was a 'Scenic Drive' day trip over parts of the Modoc Volcanic Scenic Byway. The Medicine Lake Highlands Visitors Guide from Shasta-Trinity National Forest provided lots of useful descriptions of the area, plus a map.
Medicine Lake actually rests in an ancient shield volcano caldera, though that isn't immediately obvious as the surrounding area covers 200 square miles of old lava flows, volcanic tube caves, and miles and miles of majestic forests. The Medicine Lake Highlands is under the management of 3 different National Forests (Modoc, Klamath and Shasta-Trinity) and two counties (Siskiyou and Modoc) and the different management styles within the area are noticeable in terms of roads and facilities. If you are keen on geology, here's lots of interesting background.
From the USFS Descriptons:

Recreationally, Medicine Lake offers camping, boating, fishing and swimming. The adjacent Day Use Areas accommodate boating with a concrete boat ramp and dock. There is a designated swimming area next to the Picnic Area. Hiking and mountain biking trails are numerous.

The roads into the area are generally open in summer until snow falls. There are a couple of USFS maps of the area, which are very lean of information. For example, NONE of the maps indicated that the road from Medicine Lake west to USFS 15 was actually gravel, and not suited for hauling a travel trailer. Should you want to camp at Medicine Lake, your best bet is to go in from Highway 89. You'll start on USFS 15, which Y's. Take the eastern road, USFS 49, all the way up to Medicine Lake. Definitely go in this route.

Please note that each summer there is a Special Use Permit allowing a tribal gathering in the Medicine Campground Loop. This occurs during the 3rd weekend of each July for 5-6 days. The sites within this campground will not be available for reservation or walk in use during this time. The A.H. Hogue Campground Loop will remain open during this time and will be completely available for reservations and walk in use.
We prefer to drive less travelled roads so we went east on Highway 299E then north on Highway 89 to near Bartle. That scenic route is lovely with tall green conifers. Don't be tempted to stop and take too many photos as it's still a couple of hours to Medicine Lake. Of course if you are camping in the area, snap away!
Even though this whole region is a volcanic area, it's not as immediately noticeable as is the terrain around Lassen Peak. If you come up from the south, your drive takes you through tall forests climbing a series of plateaus. You are gaining elevation all the while. Medicine Lake sits at 7,920 or about 4000 feet higher than McCloud. You may notice the difference in elevation in terms of exercise capacity.
At tiny Bartle, look for the sign to Medicine Lake. It's also known as the Modoc Volcanic National Scenic Byway and USFS 15. Once on 15 You'll cross over the Great Shasta Rail Trail shortly after leaving Highway 89. If you've been driving a while you might want to hike a short stretch of Great Shasta Rail Trail just to see what it's like. It should be suitable for wheelchair users, with a packed red cinder trail surface and practically level.
USFS 15 climbs a sort of plateau cliff face, and there is a nice graveled pull-out giving you a view of the region looking back towards Mount Shasta. There was still some smoke haze, but less than farther south.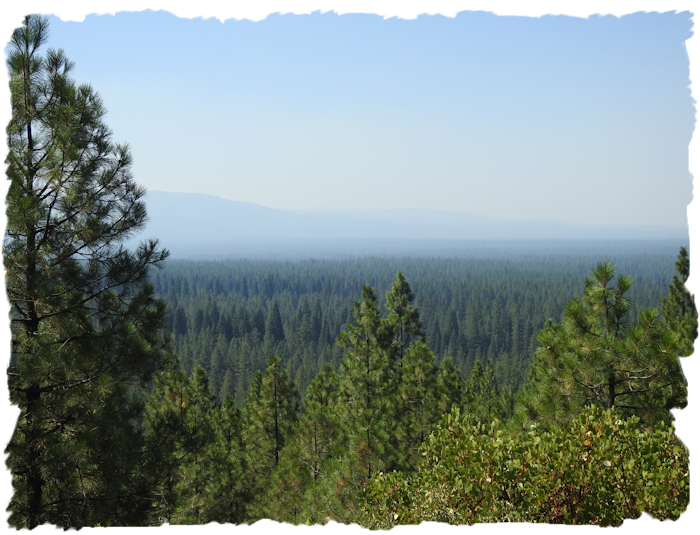 When you spot the intersection of USFS 15 and USFS 49, we took 49. Just by chance, 49 turned out to be the best route for us that day. There are side roads worth exploring and old logging roads. Keep in mind this area includes private timberland so you may encounter active logging, log haul trucks and heavy equipment. The older unused logging roads and skid roads do make for nice places for short hikes. The terrain is reasonably flat and the old roadways are hard packed making them good for all terrain mobility devices. Just don't use an active logging roadway unless you want to be flattened.
As you come closer to Medicine Lake, you'll start seeing surface evidence of volcanism. We spotted one dramatic lava 'bridge' adjacent to the roadway and stopped to take some photos from a roadside area. These lava bridges are the remains of collapsed lava tubes. In many parts of this Highlands area these become 'caves' and folks enjoy exploring them.
I didn't manage to get the flowers I saw through the lava bridge in focus, but maybe next time. The bridge itself was very dramatic with all the shapes and angles. Note that volcanic rock is pretty rough, and will cut up shoes (and wheelchair tires) if you aren't careful.
The USFS maps show numerous lava caves in the area. The trail to one well known cave is marginally passible with an all-terrain walker and you may be able to take a photo of the mouth of the cave from above, but none of the caves are currently wheelchair-suitable. Interestingly, the roads to various caves do not seem to be identified by any road markers anymore. I guess you have to know precisely where to go for caving. Never mind, who needs to get lost in a cave anyway.
Nearer to Medicine Lake you'll enter a 'devastated' area lava type of flow. Even there, flowers grow.
This is still considered a geologically active area. Exploratory drilling and geophysical studies show a high temperature geothermal system below Medicine Lake volcano and a deeper zone of partially molten rock (magma). Ground surveys by USGS scientists indicate that the center of the volcano is slowly subsiding, due to motions on regional faults and weakening of the rocks by high heat flow. Over the last few decades there have been small earthquakes in this region.
Once you arrive at Medicine Lake, stay to the left to reach the Day Use Area. There is handicap parking and a paved trail to an 'accessible' picnic table - which just happened to be in full sun. We opted to picnic at a table in the shade and I had no problem wheeling over the soil surface.
Medicine Lake is a lot larger than I had imagined. It also quite, quite beautiful. There is a large swimming area, and when we were there, there was a sand bar out away from the shoreline, almost creating two swim areas. Don't be fooled. Both swimming areas are quite deep. Theoretically, dogs are not supposed to go swimming, but while we were there several pooches were in the water with their persons. The dogs were having great fun. The people looked like they were enjoying themselves as well. But you are supposed to keep dogs out of the swimming areas.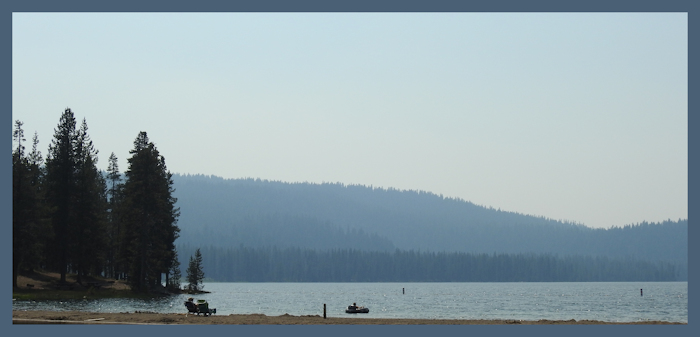 After examining the picnic area shoreline, it looked like a wheelchair user could make their way into the swim zone nearest the paved picnic table location. I'd describe swim area access as do-able but primitive. Getting in should be easy. Getting out, not so much. I myself stayed dry, though the water did look inviting.
While swimming may be marginally wheelchair 'accessible', the lake does have what appears to be an accessible boat ramp. I am not really familiar with boat ramps so I can't really tell if the ramp itself would be considered wheelchair accessible. Maybe you can tell from the photo.
More important to me, we found a wheelchair usable trail near the boat ramp. The trail runs above the shoreline, is roughly a 10th of a mile long, reasonably level, wide enough to be passable, with a hard packed surface. It's really quite a nice trail and fishermen can go from the trail right down to the water's edge. There are a lot of picnic tables between the trail and the shore. The whole area seems to be a pretty hard packed surface. I had no trouble walking the trail with my WalknChair. I also had Bill push me in wheelchair mode and that worked well. Going off-trail to various tables was do-able, too. What a nice surprise!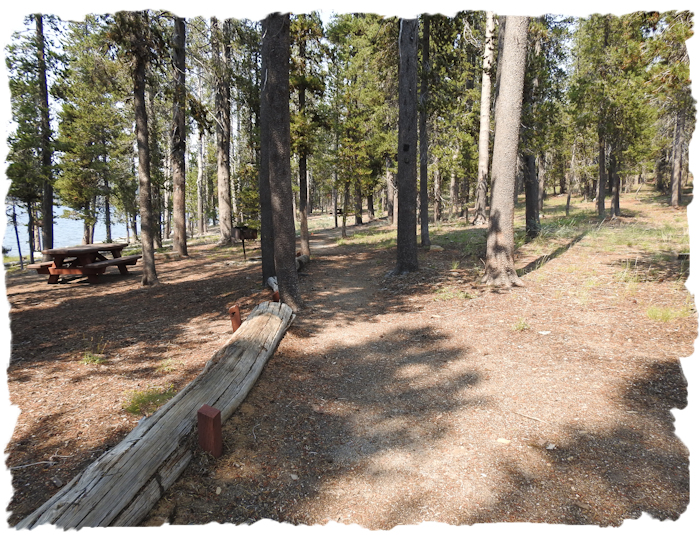 From the maps, there may be much more of this trail that is wheelchair suitable in sections around the lake. I only hiked the part near the boat ramp. Later we saw sections of 'trail' near Little Medicine Lake that may have been extensions of this same trail system. The terrain around the main part of Medicine Lake lends itself to fairly easy trails. This is actually an exciting discovery as I love exploring the more natural trails for future adventures. (We'll be back again!)
After our mini-hike we drove over to the campgrounds to see how wheelchair usable they might be. Medicine Lake Campgrounds are not identified as wheelchair accessible and the Hosts confirmed that. It's mostly tent camping with some trailers and RVs. The slips are gravel, not paved. The campground roads themselves are paved. Most of the restrooms appear to be wheelchair accessible.
While there are no 'designated' handicap spots, a few of the camp sites that are NOT on the lake edge seem level enough to be used by wheelchairs, particularly at the Medicine Lake Campground (like site 31). If you are in doubt, and require a more developed campsite, then camp or lodge at the McCloud Falls area and 'day trip' to Medicine Lake. Or come down from Klamath Falls. Remember, there are no real 'services' within the Highlands area. You need to have a full tank of gas, and carry your own food and water to explore this area.
Once done at Medicine Lake we continued driving west to connect with USFS 15 as per the Visitors Guide map. The map failed to mention that about 8 miles of the connective roadway past Medicine Lake is a typical USFS gravel road. Any SUV should be able to handle it. I wouldn't take a trailer over this section though. It's quite rough, slow, and narrow in spots as well as having some pretty tight turns.
We stopped briefly at Little Medicine Lake which is a photogenic small lake with good reflections. There were more trails here to explore, but we were running out of time on a day trip.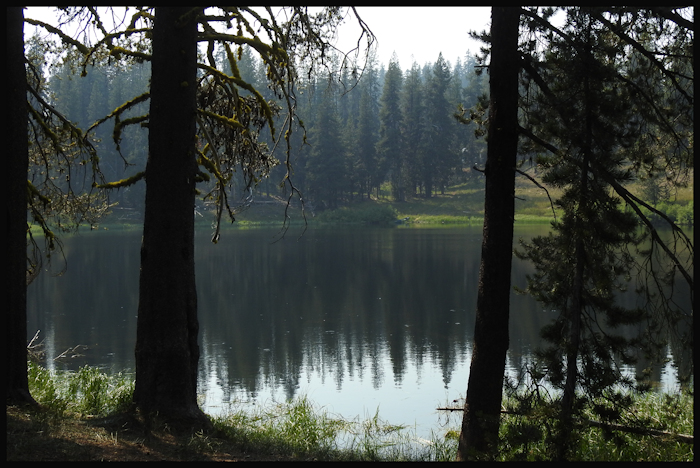 Heading west in late afternoon provided one of the day's delightful surprises. We started down a stretch of road and suddenly I saw sunlight glinting off a mountain side - sparkling, like reflections off glass. We were seeing Glass Mountain in the afternoon sun and catching sunlight reflecting off the black obsidian.
Oh, to have arrived earlier at Glass Mountain! We were rapidly losing the sunlight so my photos were hasty. We'll absolutely have to go there again! There must be certain times of the day when Glass Mountain is simply spectacular! The neighboring Pumice Mountain looked equally interesting. My photos simply do NOT do justice to the actual view. Remember, you are NOT supposed to gather any obsidian from this area. Just take pictures - they are a lot easier to carry and store! (Note: if you want to collect obsidian, get a free permit from Modoc National Forest and go to one of the 4 open mine areas near Alturas)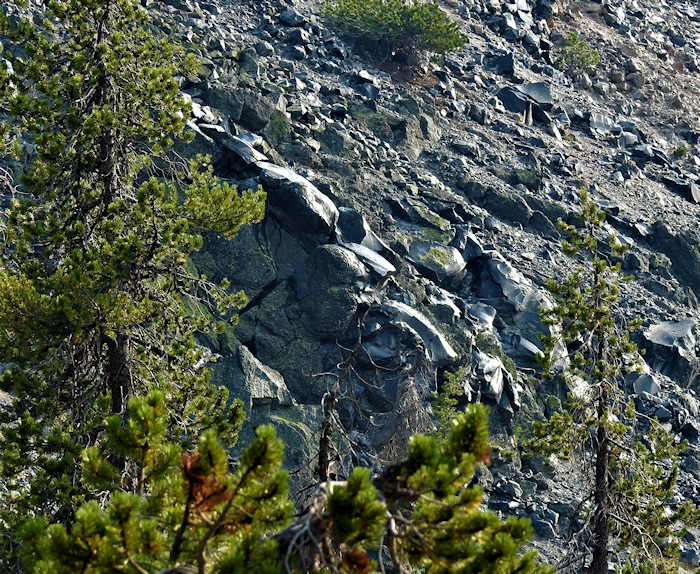 Once you pry yourself away from admiring the mountain of glistening black obsidian and get over to USFS 15 you'll be delighted to discover it's paved, and in good condition. As we were losing the daylight, we didn't linger and went straight back to Highway 89, though there were definitely some interesting volcanic areas we didn't take time to explore down 15.
On the way home we stopped and had dinner at Anna's Country Kitchen in Burney. They were able to accommodate me as a gluten-free person, and a very good meal it was!
My recommendation is to put Medicine Lake Highlands and the Modoc Volcanic Scenic Drive on your bucket list and allow several days to explore this unique area! You won't be disappointed.
*There are lots (and lots, and lots) of places yet to be reviewed for wheelchair accessibility and I am unlikely to get to them all. So that others may find some new places, I've compiled a draft list of locations that may be wheelchair accessible. These are POSSIBILITIES, no certainties. Some places may be complete duds. ATTENTION: this is a ROUGH draft list - mostly for my own use, so if you use this draft list, lower your expectations and do your homework! DRAFT SISKIYOU COUNTY ACCESSIBLE RECREATION LIST