Great Shasta Rail Trail
Thought for today: Philippians 4:8 ..Whatever is true, whatever is noble, whatever is pure, whatever is lovely, whatever is admirable - if anything is excellent or praiseworthy, think about such things..
Disclaimer: There is no assurance that any resource or activity I've found or described will be as 'accessible' as you might need. Information or links may be out of date. Use the information at your own risk and be sure to check with your health care professional for exercise advice.
Great Shasta Rail Trail starts near McCloud, CA. It is planned as a multi-use rail to trail conversion between McCloud (in Siskiyou County) and Burney (in Shasta County). Thirty-seven miles of the 80-mile trail opened in 2015 - open sections now total 40 miles. More sections will open within 10 years as bridges are restored. Trail use is for non-motorized activities - biking, running, walking, snowshoeing, Nordic skiing and equestrian. You can see the trail from a cyclist point of view.
June 3, 2017 was National Trails Day. To celebrate, the Great Shasta Rail Trail's group planned a hiking and biking meetup. We decided to go to the meetup for several reasons. First, I'd never walked a 'rail trail' before. Next, such a trail was likely to have minimal grade as a former rail line. I wanted to see if the red cinder crushed gravel trail base was suitable for all-terrain mobility walkers like the Walk'n'Chair or for a manual-style wheelchair. Since my WalknChair (aka Big Red) can also be used as a wheelchair, I could test trail suitability for both devices.
We took the 'scenic drive' to the trail head. Highway 89 is part of the Volcanic Legacy Scenic Byway and is simply a gorgeous drive. We drove east (from the Redding area) on Highway 299, then north on Highway 89. The drive is lovely and as you get near Mount Shasta you'll get glimpses of that majestic dormant volcano. Allow extra time to be able to stop and take pictures along the way. Our Hike Location was at the trailhead one mile north of 89 on Pilgrim Creek Rd. east of McCloud (Forest Road 13). McCloud is 3,271' elevation so the trailhead is somewhat lower.
On the rail trail, there is a very gradual incline downward approximately 2%, west to east between Pilgrim Creek and Esperanza. This is a straight trail, with minimal shade, adjacent a lovely conifer forest. Midway between roads there's meadows, wildflowers in season, and it's a great area for birding.
The rail trail surface, while wide, is mostly packed red cinder. I found the trail very do-able with an all-terrain Walk'n'Chair. In walking mode, I was able to use the trail but it would have been easier with wider tires and knobby tread. Wheelchairs with narrow tires may have difficulty. Rollators that are not all-terrain won't be able to handle the looseness of the cinder base. The bicyclists encountered generally used wide-tires and thus moved easily on the trail. If I do this trail again, I'll start farther east and walk west, so that if I turn around to go back at any point the return would be downhill.
GSRT advises, … 'be prepared.' The experienced trail user always has sufficient water, nutrition, supplies, etc. appropriate to their intended uses, effort and distance. During hot weather bring extra water.' And it's very good advice. There is no water along the trail and no restrooms. While hikers can walk off to the side of the trail and use shade, mobility device users and bicyclists will most likely have to stay on the path. The path itself has very little shade for much of the day at the McCloud end, because it runs west-east.
According to the FAQ section of the website, GSRT is for non-motorized use only. Thus, cycling, walking, hiking, horseback riding, Nordic (cross country) skiing, and snowshoeing are all permitted. Disabled or handicapped persons needing to use mobility devices to use the trail may do so. It might be a good idea to carry a copy of the ADA rules or the California Park rules on Personal Mobility Devices in case some individual thinks your mobility device somehow violates the trail rules.
Mobility devices used to make recreation 'accessible' for the disabled is an emerging area of discussion on Rail Trails. While I was there, some older people were using Class 1 electric assist bicycles and they were not 'disabled', they just needed a little assist to enjoy biking the trail. Certainly, their tail use was no different in terms of impact than the mountain bikers also enjoying the trail. Since the trail is lightly used, your mobility device shouldn't be an issue unless you attempt to drive a car down the trail. Don't do THAT!
If you are hiking with a group you may want to plan to have vehicles at each trailhead in case anybody becomes too tired to hike back. The bridge over Mud Creek is closer to the Esperanza Trailhead. The meadow, which can be seen in the aerial images from Google is a little closer to the Pilgrim Creek End.
It was a fun experience, and the group we walked with were quite kind and neighborly. So, go for a walk - or a roll on the Great Shasta Rail Trail!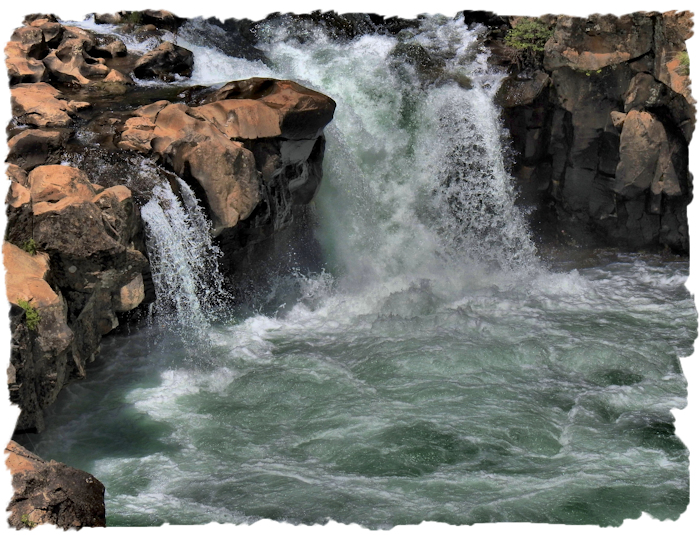 On your way back, take a side trip down to Lower McCloud Falls. It's a perfect spot for a picnic (complete with tables and accessible restrooms), and you'll enjoy the view! In summer, many people like to jump off the edges into the rather chilly water. I prefer to photography them - it's REALLY cold water!
*There are lots (and lots, and lots) of places yet to be reviewed for wheelchair accessibility and I am unlikely to get to them all. So that others may find some new places, I've compiled a draft list of locations that may be wheelchair accessible. These are POSSIBILITIES, no certainties. Some places may be complete duds. ATTENTION: this is a ROUGH draft list - mostly for my own use, so if you use this draft list, lower your expectations and do your homework! DRAFT SISKIYOU COUNTY ACCESSIBLE RECREATION LIST